Skidmore isn't just a place for you to live and study.
It's a dynamic residential community that encourages you to get involved, to pursue your passions and to find new ones.
Whether you engage in one of Skidmore's nearly 100 student clubs or serve as a residential advisor, a varsity athlete or intramural participant, a student gardener or a volunteer in a local school, you will find opportunities to use your creativity and round yourself out while giving back to the larger community.
All this on a picturesque campus including apartment-style residences with mountain views, a popular dining hall known for its variety, cool arts venues such as the Tang Teaching Museum and Art Gallery and the 250-acre North Woods, our own natural laboratory and spiritual getaway. See our cool, interactive campus tour, as well as tours of Saratoga Springs and our science labs and arts studios.

---
Student clubs and organizations
Get involved! Skidmore students are creative and involved, in and out of the classroom. With more than 100 student clubs and 19 varsity sports, plus numerous opportunities here in Saratoga Springs, you'll truly find your niche at Skidmore.
---
Whether you're overlooking Saratoga Springs from the top floor of Jonsson Tower or studying in a window seat in McClellan Hall, your living environment will play a role in your academic, social and interpersonal growth while at Skidmore.
---
Student Government Association
The Student Government Association (SGA) is an important vehicle to help you realize your creative future while at Skidmore. Hosting and coordinating events as well as securing funding for internships and student clubs, the SGA supports the creative endeavors of the student body on campus.
---
Skidmore's intercollegiate and intramural sports programs offer plenty of opportunity to play and compete, hone your athletic skills or try a new sport. In addition to 19 varsity teams that compete in the Liberty League with other top liberal arts colleges in the Northeast, Skidmore offers a range of intramurals, club sports, and fitness options. See this interactive tour of the Williamson Athletics Center.
---
Saratoga Springs is an incredible place to spend four years. A 10-minute walk from Skidmore puts you in the heart of a downtown brimming with galleries, clubs, shops (funky and major retail), coffeehouses and great restaurants. Legendary folk club Caffè Lena, where Bob Dylan and Ani DiFranco performed, is a local favorite. So is Esperanto, co-founded by a Skidmore professor. (Take a look at our Saratoga Springs virtual tour.)
Location? Boston, New York City and Montreal are approximately a three-hour car ride from campus. And the nearby Adirondacks, Berkshires and Green Mountains provide amazing recreational opportunities. There's history too: famed mineral waters, a Revolutionary War battlefield and the nation's oldest and most beautiful thoroughbred racetrack.
Culture? The Saratoga Performing Arts Center is summer home to the New York City Ballet, Philadelphia Orchestra and a performing venue for top musicians such as Dave Matthews.
---
Since 1911, Skidmore dining services has provided students, faculty and staff with award-winning dining options. With the Murray-Aikins Dining Hall, the Atrium Cafe and convenience store, the Spa snack shop, Burgess Café and its catering and banquet facilities, Dining Services is the source for all your dietary needs. In 2014, Dining Services won a gold medal in the ACF Culinary Competition. No wonder the students love this place! See the interactive virtual tour of Murray-Aikins Dining Hall.
---
Whether you're an incoming first-year staying on campus or heading to London, an international student or a transfer student, we have planned an orientation to help you make the transition to Skidmore.
---
Where will you go after Skidmore? Our Career Development Center is committed to helping you figure it out.
More than half of our students go on to grad school, and Skidmore graduates end up in careers around the world, ranging from law, medicine, business and human services to public service, education and the arts. But alongside learning to make a living comes learning to make a life. Our approach to the liberal arts is to integrate creative thought into every aspect of learning, ensuring that graduates are ready to live fully, as professionals and citizens of the world.
---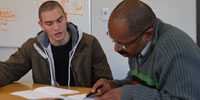 The Office of Student Academic Services provides a wide variety of services to promote academic achievement and support students as they take full advantage of the academic opportunities available at Skidmore. The office serves all students interested in improving their academic performance.
---
Skidmore College is committed to environmental action, and making great strides forward each year.
Skidmore's two student apartment complexes—Northwoods and Sussman Village—are heated and cooled geothermally. It's a bright-green system using the year-round 50-degree temperatures deep underground to provide AC in summer and help with heating in winter. About 35% of campus heating and cooling is now geothermal, with a goal of 50% by 2020.
---
See Skidmore through your own eyes. We encourage you to visit campus, whether for a fall open house, a spring special program, or on your own. Can't visit? See our cool, interactive virtual tour of campus, Saratoga Springs, even our science labs and arts studios.
---
Connect with current Skidmore students, faculty, and staff on social media. Ask your questions and get a feel for life at Skidmore!