Athletes, friends take dip in Lake George for good cause
November 22, 2011
Athletes, friends take dip in Lake George for good cause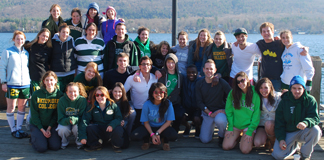 Team Skidmore on Shepard Park pier
What would make you jump into Lake George on a chilly November Saturday? Approximately 50 Skidmore College athletes have an answer to that question: a $2,100 contribution for Special Olympics.
That's the amount raised by the Skidmore Athlete Advisory Committee in pledges to student athletes who participated in the Nov. 19 "Polar Plunge" in Lake George, N.Y. Full disclosure: the brilliant fall sun was strong on Saturday, giving lie to the "polar" part of the event's name. But afternoon temperatures hovering around 50 degrees were hardly typical for a swim in the Queen of American Lakes.
Team Skidmore was nevertheless up to the challenge, participating in a pre-swim zumba class on the Shepard Park pier to "warm up" before joining hundreds of volunteers in the plunge at Shepard Park Beach. Skidmore student athletes included those from the ranks of the soccer teams, the crew teams, volleyball, and softball. The day before the swim, men's crew hosted a car wash and bake sale, netting about $300 in proceeds to add to the SAAC total. Brian Geraghty '14 was instrumental in coordinating the crew's effort, noted Coach Jim Tucci.
Warming up with pre-plunge zumba
Special Olympics NY set a goal of $100,000 for this year's Lake George Polar Plunge; the 2010 tally was $80,000.

The Special Olympics NY mission is to provide year-round sports training and athletic competition in a variety of Olympic-style sports for all children and adults with intellectual disabilities, giving them continuing opportunities to develop physical fitness, demonstrate courage, experience joy, and participate in a sharing of skills and friendship with their families, Special Olympics athletes and the community. Through their participation in Special Olympics New York athletes gain confidence and build a positive self-image, which carries into the classroom, the home, the workplace and the community.
On the beach, not in the water--yet
Skidmore's relationship with the region's Special Olympians has been strengthened over the years through such activities as swim competitions in the college's pool.

(Photos by Lacey Largeteau)