Modern Leonardos: Educating for innovation
March 26, 2013

Modern Leonardos: Educating for innovation
Like their Renaissance forebears, today's artist-scientists are responsible for many important modern inventions and discoveries, says MacArthur Fellowship-winner Robert Root-Bernstein, a leading expert on creativity and innovation. Hear his lecture Tuesday, April 2, at 7 p.m. in DavisAuditorium.
March 25, 2013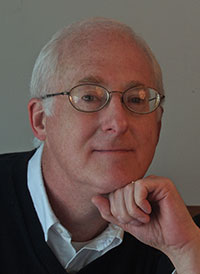 Robert Root-Bernstein
,
Michigan State University
Robert Root-Bernstein, one of the nation's leading authorities on creativity and innovation, will make a two-day visit to Skidmore College and SUNY Adirondack Monday and Tuesday, April 1 and 2. In a public lecture at 7 p.m. Tuesday, April 2, in Skidmore's Davis Auditorium in Palamountain Hall, he will speak on "Modern Leonardos: Artist-Scientists and What They Tell Us About Educating for Innovation." Admission is free and open to the public.

"Many people maintain that knowledge has become so specialized that Renaissance individuals such as Leonardo da Vinci are no longer possible," says Root-Bernstein, a scientist, humanist, and artist at Michigan State University and the recipient in the 1980s of a MacArthur Foundation Fellowship. "Not only are they possible, they exist, unrecognized, in large numbers and are, like their Renaissance forebears, responsible for many important modern inventions and discoveries. Understanding how such modern Leonardos work can tell us important things about educating for innovation."
Members of the Skidmore community also are invited to attend either or both of two lectures that Root-Bernstein will deliver Monday, April 1, at SUNY Adirondack:
"ArtSmart: How Arts Stimulate STEM Creativity," 12:30 to 1:50 p.m., Room 206, Scoville Learning Center at the SUNY Adirondack Queensbury Campus on Bay Road;
"Integrating Arts and Sciences through Tools for Thinking," 4 to 6:30 p.m., Room 206, Scoville Learning Center
A professor of physiology at Michigan State, Root-Bernstein studies the evolution of metabolic control systems, autoimmune diseases, drug development, and the creative process in the sciences and arts. He exhibits his artwork both in group and solo shows and collaborates with the transmedia artist Adam Brown. They are currently exhibiting an installation called "Origins of Life 1.8" at the Reuben Fleet Science Center in San Diego that doubles as a working experiment.
Root-Bernstein has written four books, including Discovering (Harvard University Press, 1989) and Sparks of Genius (Houghton Mifflin, 1999) and is at work on two more: one on artists and musicians as scientists and inventors, and the second on modern scientists as visual artists.
Opening the College's 11-day SKIDGENUITY series, Root-Bernstein's visit to Skidmore is sponsored by the Office of the Dean of Faculty/Vice President for Academic Affairs.