Cornell labor expert to present Weiss talk April 24
April 19, 2013
Transnational campaigns are as old as the first multinational companies. But just a small number of labor unions are running comprehensive, global campaigns designed to win against global firms.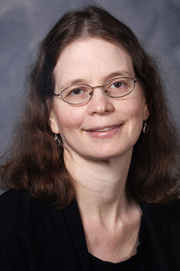 Kate Bronfenbrenner
Kate Bronfenbrenner, director of labor education research and senior lecturer at Cornell University's School of Industrial and Labor Relations, will discuss "Transnational Campaigns and the Global Labor Movement: East India Tea to Wal-Mart" when she delivers this year's William E. Weiss Lecture at Skidmore.
Free and open to the public, the talk is scheduled for 5:30 p.m. Wednesday, April 24, in Davis Auditorium, Palamountain Hall. Professor Brofenbrenner serves as the director of the Labor Education Research Center at Cornell.

Explains Bronfenbrenner, "Although transnational campaigns may seem like a recent phenomenon, starting in the 1990s, in fact these campaigns are as old as the first multinationals—East India Tea and later in our continent, United Fruit. These first global firms had huge distribution networks, and counted on governments and public and private armies to make and enforce laws in their interest. But also early on there were cross-border campaigns where workers in the colonial powers found it in their interest to stand with the workers in the colonies.
"Today global firms such as Walmart, DHL, McDonalds, and Merck are even larger and more challenging to take on, but the need to organize and bargain globally is even greater as these firms end up bringing down the economic, environmental, and labor standards. Yet only a small number of unions around the globe have been able to take up the challenge of global running transnational campaigns, and fewer still are running the kinds of comprehensive, multifaceted, truly global campaigns required to win."
Bronfenbrenner is the director of Labor Education Research and a Senior Lecturer at At Cornell's School of Industrial and Labor Relations, Bronfenbrenner teachines and researches union and employer strategies in organizing and bargaining in the global economy. She has also done extensive research on the impact of trade policy on employment, wages, and unionization. Prior to joining the Cornell faculty in 1993, Bronfenbrenner was an assistant professor in labor studies at Penn State University and worked for many years as an organizer and union representative with the United Woodcutters Association in Mississippi and with SEIU in Boston, as well as a welfare rights organizer in Seattle, Wash.
Bronfenbrenner, who received a Ph.D. from Cornell in 1993, is the co-author and editor of several books on union strategies, including Global Unions: Challenging Transnational Capital Through Cross Border Campaigns, Union Organizing in the Public Sector: An Analysis of State and Local Elections, Organizing to Win: New Research on Union Strategies, and Ravenswood: The Steelworkers' Victory and the Revival of American Labor. She has published numerous articles, book chapters, and monographs on employer and union behavior in public and private sector organizing and first contract campaigns, comprehensive campaigns, union leadership development, women and unions, and global trade and investment policy. Her most recent study on employer behavior in NLRB certification campaigns No Holds Barred: The Intensification of Employer Opposition to Organizing played a central role in informing the current debate on the Employee Free Choice Act.
Because of her expertise in contemporary labor issues and her research on union and employer behavior in certification election campaigns, Bronfenbrenner has testified as an expert witness at Labor Department and Congressional hearings and is frequently quoted in the major news media.
Bronfenbrenner has been the recipient of many awards, most notably the Labor Research Association's Ernest DeMaio Labor Award in 2009, IRRA's Outstanding Young Scholar Award, ILR's 60th Anniversary Outstanding Contribution to Labor Education Award, the Labor Party's first Karen Silkwood Award in 1998, the New York Labor History Association's John Commerford Labor Education Award in 2000, the General Mills Foundation Award for Exemplary Undergraduate Teaching in 2003, the Robert N. Stern Mentoring Award in 2007, and was selected to give the 24th Memorial Sefton Lecture at the University of Toronto in 2006.
Bronfenbrenner has been working with a group of Skidmore faculty, including Mehmet Odekon, Janet Casey, Rachel Seligman, and John Weber on the upcoming Tang exhibit titled "Classless Society," opening in September of 2013.
The William E. Weiss Lecture in Economics at Skidmore is made possible with the assistance of former Trustee Arturo Peralto-Ramos III, a member of Skidmore's Class of 1974. Named in honor of Peralta-Ramos's stepfather, William E. Weis, the lecture series fosters discussion of contemporary economic issues.