Championships highlight spring season's end
May 6, 2013
Championships highlight spring season
May 6, 2013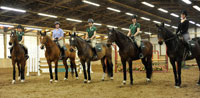 The 2013 riding champions
Skidmore's riding team won its seventh Intercollegiate Horse Show Association national championship May 4 at the Pennsylvania Farm Show Complex in Harrisburg, Pa.
The Thoroughbreds and St. Lawrence University were declared co-champions after each team finished with 22 points. Stanford University was third with 20 points, and Savannah College of Art and Design was fourth with 18 points.
Skidmore's last national championship came in 2010. The Thoroughbreds were reserve champions with second-place finishes in 2011 and 2012.
Flavia D'Urso '13 (Chester, N.J.) won the Open over Fences to propel Skidmore into a first-place tie with St. Lawrence. D'Urso also finished second out of 37 competitors in the Cacchione Cup contest for the nation's top riders. She amassed 169.00 points over two phases, just 5.25 points behind the overall winner.
The 19th-ranked women's tennis team claimed its third straight Liberty League championship and an automatic bid to the 2013 NCAA Division III Tournament after defeating Vassar College 6-2 on May 5.
Robyn Baird '14 (Potomac, Md.), Lee Ford '14 (Newton, Mass.), Alex Smith '15 (Beverly Hills, Calif.), and Caroline Hobbs '16 (Lafayette, Colo.) won their respective singles matches in straight sets, while Nataly Mendoza '13 (San Francisco, Calif.) won her number-one singles match in three sets.
Before beating Vassar for the title, Skidmore bested Bard College 5-0 in the quarterfinals and William Smith College in the semi-finals 5-0. The Thoroughbreds will travel to Kalamazoo, Mich., for the NCAA Division III Tournament with team competitions taking place May 20-22 and individual matches scheduled May 23-25.
Men's tennis lost to Vassar College 5-2 in the Liberty League title match May 6 in Poughkeepsie, N.Y.
The match came down to Jimmy Sherpa's '14 (West Vancouver, B.C.) contest against Andrew Guzick, with Guzick prevailing 6-3, 6-3. Miles Ransom '15 (Delray Beach, Fla.) won his number-two singles match and paired with Gabe Steerman '14 (Philadelphia, Pa.) for a win at number-three doubles.
The 27th-ranked Thoroughbreds (11-8) will hope to garner an at-large bid into the NCAA tournament after playing a brutal non-conference schedule featuring several top 25 programs and including wins over Trinity College and The College of New Jersey.
The baseball team entered the weekend mathematically alive for the fourth and final playoff spot in this year's Liberty League tournament. The Thoroughbreds split with RPI Friday afternoon, which meant they would need to take both ends of a Saturday doubleheader against RPI to keep hope alive. Skidmore would erase a four-run deficit in extra innings in the first game for a 9-7 win, before surrendering five runs in the final inning of the second game en route to a 7-6 loss to effectively close out the season.
On Friday, Skidmore took the first contest 7-0 before dropping the nightcap 4-3, as RPI engineered another late-inning comeback to steal the victory.
Jordan Keysor '13 (Cadyville, N.Y.) pitched a gem in the final start of his career. The senior tossed seven innings, scattering only two hits without allowing a run to cross the plate. Leejay Pollacchi '13 (Porter Corners, N.Y.) went a combined 3-8 with an RBI and two runs scored. Alex Barber '13 (Cambridge, Mass.) was 2-6 with one walk and two runs scored, while Marco Baratta '16 (Tenafly, N.J.) was 2-7 with three runs.
On Saturday Andrew Bannon '15 (Sandwich, N.Y.) earned the win in the opening game after tossing 4.1 innings in relief of Nick Petrella '15 (West Sayville, N.Y.) Baratta had a big day at the dish, going 4-7 with a double, a homerun, three runs scored, three RBI, and a walk. Mike Pannozzi '13 (Providence, R.I.) was 2-4 with a double, two runs and a pair of walks, while Pollacchi was 4-9 with two runs and one run batted in.
Skidmore finishes the season with an overall mark of 16-22 including a 10-16 record in league play. ~ By Sean Farnsworth