Ecology award for oceanographer alum
August 27, 2013
Penny Chisholm '69
Marine biologist Penny Chisholm '69 has won the 2013 Ramon Margalef Prize in Ecology from the government of Catalonia, Spain. Established in 2004 and named for Ramon Margalef (1919–2004), a leading scientist and a founder of modern ecology, the annual prize includes an award of 80,000 euros (about $107,000) and a trophy representing the microalga Picarola margalefii. Chisholm will accept the award at a ceremony in October in Barcelona.

Chisholm is a distinguished biological oceanographer whose studies of the dominant photosynthetic organisms in the sea have revolutionized scientists' understanding of life in the world's oceans. The Martin Professor of Environmental Studies at Massachusetts Institute of Technology, Chisholm was one of 12 recipients of the National Medal of Science from U.S. President Barack Obama in February.

In 1988 she was part of a team that discovered the phytoplankton Prochlorococcus, the world's smallest yet most abundant photosynthetic organism. These tiny, unicellular blue-green algae are the basis of the ocean's food chain and more. During photosynthesis they use sunlight energy to take up carbon dioxide and evolve oxygen, thus playing a key role in regulating the earth's atmosphere and climate.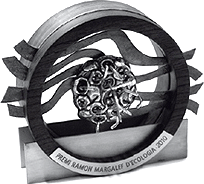 After completing a bachelor's in biology-chemistry at Skidmore, Chisholm earned a Ph.D. in biology from the State University of New York at Albany in 1974. Recalling her start as a scientist, she said, "I always tell people that the project I worked on for my senior thesis was not on a cutting-edge topic, but that didn't matter. I learned how to do science in the most rigorous way. I learned the fundamental principles of the scientific method. That is what matters, as that is what students carry with them when they move on."

She returned to Skidmore in 2008 to deliver a lecture titled "Tiny Cells, Global Impact: Why You Should Care (and Worry) About Marine Microbes" as part of Skidmore's Distinguished Scientist Lecture Series. In 2003 she was elected to the National Academy of Sciences for her "pioneering studies" into "the Earth's primary production."

Outside the lab, Chisholm has teamed with illustrator and author Molly Bang in producing two award-winning children's books. Their first collaboration, Living Sunlight: How Plants Bring the Earth to Life (Scholastic, 2009), was acclaimed in 2010 by the American Association for the Advancement of Science as the year's "Best Children's Science Picture Book." Their second, Ocean Sunlight: How Tiny Plants Feed the Seas (Scholastic/Blue Sky Press, 2012), received this same award for 2013.