Workshop promotes entrepreneurial aspects of art
October 12, 2013
Workshop promotes entrepreneurial aspects of art
Oct. 12, 2013


Molly Brister Haley '64 at workshop (Photoby Ngia Luu '14)
A September workshop "for students interested in forming a business around their passion for art-making" was the second such event in a three-year pilot program made possible by Molly Brister Haley '64 and husband Ed Freitag.
An art major at Skidmore, Haley and a partner ran Marblehead Handprints—designing, manufacturing, and selling silk-screened fabrics and products—from 1970 to 1994. Haley then served as a director at American Women's Economic Development and helped found the Women's Business Center in Washington, D.C. Recalling her on-the-job learning with accountants and lawyers to make Marblehead Handprints so successful, and wanting to support Skidmore's new minor in arts administration, last year she and her husband decided to fund a series of offerings including a new course, off-campus apprenticeships or other learning experiences, and career networking.
Haley is delighted that the "Entrepreneurial Artist" course is set to debut in the spring semester. She says, "We hope that art students will come away with enough information about business basics that they will be inspired to one day make the leap into earning their living doing what they love." As a senior, recent workshop attendee Sage Barlow '14 says, "I wish this course had been offered sooner, but I am really looking forward to it."
In the meantime September's workshop, hosted by Haley, featured more than a dozen professionals—from retail bench jeweler Rachel Fisher '12, to New York Business Development Corp. VP Ross Pancoe, to professional sculptor Bev Estabrook Mastrianni '76—in a panel discussion and roundtables. "The students' response has been fantastic," says Haley. "I am constantly amazed at how aware they are about what they want. They asked great questions of the panelists and experts at the roundtables."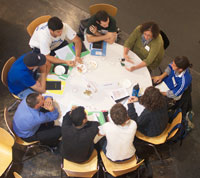 Harder Professor Cathy Hill (in green)
leads roundtable (Photo by Ngia Luu '14)
Erik Morrison '15 loved the interactivity of the session and the focused topics of the roundtables, from arts to entrepreneurship to legal matters; next time, he hopes to find more nonprofits to network with. Ezra Levy '15 values the workshop because "the competitive nature of the art marketplace can be an overwhelming barrier to entry. For emerging artists, the key to success will be to run their creativity like a business." Tobi Ewing '15 enjoyed the workshop last spring and again this fall. She says, "I have my own apparel and jewelry business, so I'm always looking to gain insight from successful entrepreneurs in similar fields," and she adds, "I love that some of the panelists are local—this year I connected with a textiles designer about an internship!"
David Howson, director of the arts administration program, calls the initiative's academic and networking events "great ways to introduce student artists to alumni and others who are successfully making a living doing what they love—their art-making." His program co-sponsored the workshop with Skidmore's Career Development Center, art department, and management and business department.