Networking at Career Jam
October 16, 2013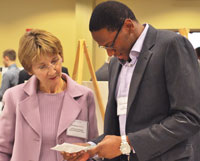 Trustee Gail Dudack '70, president of theAlumni Association, shares feedback with Melvis Langyintuo '12 at an earlier CareerJam.
If networking is the single most successful strategy for landing a job—and it is—then there is no better place for job seekers to be than Skidmore's fifth annual Career Jam this Friday, Oct. 18, from 3 to 5 p.m., in Murray-Aikins Dining Hall, 2nd floor. Students and alumni will find more than 75 Skidmore alumni, parents, and friends from a wide range of career fields (full list here) who come to Career Jam for one purpose: to help open doors into life after Skidmore.
They represent such organizations as Consumer Reports, NBC News, the United Nations, Brigham & Women's Hospital, General Electric, Bank of America Merrill Lynch, Prevent Child Abuse New York, IBM, the Peace Corps, Pfizer, and National Grid. They also come from the Capital District: Stewart's Shops, Opera Saratoga, The Saratogian, CDPHP, Myriad Productions, and the National Museum of Dance.
Career Jam offers a lot of "bang for the buck," because in just a few minutes attendees can make numerous professional contacts, get a free headshot from a pro photographer, and take away a business-card holder (for the first 75 people in the door). They can learn what career paths others have pursued and how, industry-specific tips on search strategies, and best ways to sell their liberal arts education.
In preparation for Career Jam, the Career Development Center is offering Resumania—instant resume reviews by career coaches, Oct. 14–18, 11:30 a.m.–1:30 p.m., Case Center (M,W) and Dining Hall (T,Th,F)
Students can RSVP for this event at My CDC Account.
Career Jam is a partnership of the Career Development Center, Parents Council, and Alumni Affairs. Other CDC programs include Graduate and Professional School Expo, Living the Liberal Arts, job shadowing, and the Multicultural Speed-Networking Reception. In 2012 the center hosted 108 programs and met with more than 2,000 students and alumni for appointments and drop-ins. For more information, visit the CDC site.