Thoroughbred athletes compete in pool, on court, and on ice as semester winds down
December 9, 2013
Thoroughbred athlete compete in pool, on court, and on ice as semester winds down
Dec. 9, 2013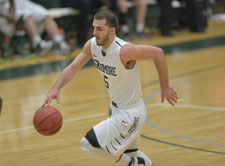 Aldin Medunjanin '16 in action
Men's and women's swimming and diving teams completed a successful Liberty League swimming and diving championship meet Saturday at Union College. The women placed sixth out of 10 teams with 688.50 points, while the men were fifth out of nine with 505.50 points. On the women's side Catherine King '15 captured the program's first-ever Liberty League swimming championship, placing first in the 50 Freestyle with a time of 24.08. King teamed with Erin Donovan '17, Jessica Sandberg '17 and Yookee Roh '16 for a fifth-place finish in the 200 Medley Relay with a program record time. Roh touched in second in the 400 IM (4:46.19) and Donovan set a school-record with her time in the 100 Back (1:01.16), for third.

Lyle Stephenson '15 had the men's top individual finish, placing sixth in the 200 Back. Stephenson also combined with Mario Hyman '16, Ramzy Kahhale '15 and Tim Brodsky '14 for a fourth-place finish in in the 200 Free Relay. The team of Stephenson, Hyman, Brodsky and Nick Sauerbrunn '15 captured fifth in the 400 Free Relay. Both teams will both participate at the RPI Invitational in January with the men's and women's invitational meets taking place on Jan. 11 and Jan. 18 respectively.
Women's basketball went 1-1 on the week, falling Tuesday to No. 5 Williams College 55-34, and knocking off Middlebury College 63-50, Saturday. Angela Botiba '15 recorded her third double-double of the season against Williams, leading the Thoroughbreds (2-4) with 12 points and 14 rebounds. Molly McLaughlin '15 produced nine points, four rebounds and two assists, and Jordyn Wartts '14 had seven points and six rebounds. Amber Holgate '16 scored a career-high 15 points off the bench against Middlebury; Wartts registered a double-double with 10 points and 12 rebounds; Botiba scored 11 points and pulled down 11 boards; and McLaughlin had seven points, nine assists, seven rebounds. The team travels to the Albany College of Pharmacy and Health Sciences for a 7 p.m. tip-off Tuesday, Dec. 10.
Aldin Medunjanin '16 scored 20 of his 31 total points in the second half as men's basketball dropped a shootout against Middlebury College Saturday, 89-84. Medunjanin added six rebounds and five assists, Erik Sanders had 22 points and six rebounds and Connor Merrill contributed 11 points and five boards. The two teams traded the lead for the majority of the first half. Middlebury managed to create separation late in the second, opening up a 14-point lead. Medunjanin brought Skidmore back with five, rattling off seven-straight points to cut the deficit to 72-77, but the Panthers converted on their free throws down the stretch to hold on for the win. The Thoroughbreds (3-2) return to action 7 p.m. Wednesday, Dec. 11 at Ithaca College.
Ice hockey gave No. 5 Norwich University all it could handle before losing 3-2 in overtime Friday night. Vlad Gavrik '14 gave the Thoroughbreds the lead late in the first period, but the Cadets responded with two unanswered goals. Brian McQuillan '14 scored the game-tying goal at 14:14 of the third period to help send the game to overtime. Jack McDonald '17 made 37 saves in goal for the Thoroughbreds and Tony Giacin '14 , Marc Cibelli '17 and David Limoges '15 all chipped in with assists. The team closed out the semester with a 2-2 tie Saturday at St. Michael's College. Aaron Beck '14 netted his team-leading eighth goal of the season and Brad Schuler ' 14 also tallied, while McDonald stopped 36 shots. The Thoroughbreds host Nichols College at 7 p.m. Friday, Jan. 3. ~ By Dan St. Jacques