2 win Backus FYE Prize for scholarly achievement
May 13, 2013
2 win Backus FYE Prize for scholarly achievement
May 12, 2013
Russell Bollag-Miller '16 (Photo by
Nghia Luu)
First-year students Russell Bollag-Miller and Ramsey Daniels have been selected to receive the Candace Carlucci Backus '66 FYE Prize for student academic achievement in the First-Year Experience. The award is named for Candace Carlucci Backus '66, a former director of alumni affairs at Skidmore.
The honor annually recognizes exceptional scholarly or artistic achievement in the fall semester Scribner Seminars. Bollag-Miller and Daniels each wrote papers that were considered by the committee of faculty members who selected the award winners.
Daniels, who was enrolled in the "Welfare and Politics" seminar taught by Pat Oles, wrote "Reading Ramsey," an essay about his gap year, which he spent as a tutor, mentor, and role model at a low-performing public middle school in Miami. He explained, "I was appalled at the low quality of education given to inner-city students, and closing the achievement gap was my main priority entering freshman year at Skidmore."
In his essay Ramsey detailed his "struggle to find a political philosophy that supported my views on education. Was I an idealist or a pragmatist? Did I believe in the 'culture of poverty' argument? Was I in favor of federal control over public education? Professor Oles forced me to answer these questions in light of my experience in Miami, and ultimately I emerged with a strong political philosophy to support my views."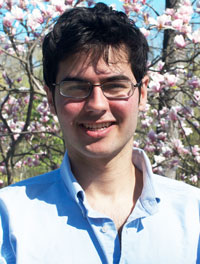 Ramsey Daniels '16 (Photo by
Nghia Luu)
Bollag-Miller, who was enrolled in "American Dreams" taught by Barbara Black, titled his essay "The Veins of America: A Search for Home," about defining the idea of 'the road' as an American Dreamscape.He said, "Though not a specific place, the idea of the road is a place where the American psyche yearns to go. From works like On the Road by Jack Kerouac to Into the Wild by John Krakauer, the road exists as a mythical place for the restless soul of Americans to reside. The road is not an actual place, but rather a place between, or limbo. My paper gave a brief history of the birth of the American highway system. The Beat Generation also was heavily featured, as these are the people who spurred the notion of the road as a place to take to."
FYE Director Janet Casey, a member of the award committee, called both papers "compelling in content and excellently written." She added, "The Committee faced a difficult choice this year, as the eight nominees submitted excellent work across a range of analytic and creative genres. However, we felt that Ramsey's and Russell's projects stood apart; their papers were especially focused, insightful, and well executed. Together they set a high standard for work in the Scribner seminars and for undergraduate achievement in general."
Casey continued, "This is one purpose of the FYE-Backus award: to acknowledge a superior academic performance in the beginning of a student's career, with the hope that such acknowledgment raises the bar for Skidmore work collectively. In addition, the award highlights the academic rigor and creative latitude of the entire First-Year Program."