Academic Festival 2013
May 3, 2013
Academic Festival 2013
05/03/2013
Academic Festival took place May 1 with a wide variety of student presentations. Here are some highlights.
Entrepreneurial partners
Back in September, retraining and finding good homes for retired thoroughbred racehorses was just a dream, an idea, for Valerie Buck. Nine months later, thanks to help from the Skidmore Saratoga Entrepreneurial Partnership, she's primed to start up her nonprofit, called ACTT Naturally. Over the last decade SSEP has partnered student "consultants" with more than 100 area businesses and nonprofits.
Brendan Cottam '13, left, Jessica
Singer '13 and Kathryn Jones '13
An exercise rider and assistant trainer in the thoroughbred industry for 28 years, Buck has been working this academic year with business majors Rebecca McCourt '13 and Matthew Miron '13. "I wasn't a businessperson by any stretch," she said, after McCourt's presentation at Skidmore's 2013 Academic Festival. "Rebecca and Matt did a great job of helping me look at ACTT Naturally as a business and look at myself as a business owner. It's a huge passion for me. I have a lot of hope for it."

McCourt informed the Academic Festival audience that racehorses typically retire at 3 to 4 years old, yet they have life spans of as much as 20 years. In 2011 alone, 10,000 thoroughbeds came off the track and ended up in Canadian and Mexican slaughterhouses. Buck believes this is not only wrong but also a waste of potential—for example, some horses she has retrained are being used in a program called Saratoga Warhorse, in which handling horses helps military veterans struggling with PTSD. Ultimately, she hopes ACTT Naturally can house 50 ex-racehorses for retraining before providing them to programs or individuals.

According to McCourt, she and Miron helped frame Buck's nonprofit as one that would stay small and manageable, not address end-of-life care, and be transparent. She also said they assisted her in filing for nonprofit status, thinking through the revenue structure (donations, adoption fees, and clinics), and producing financial estimates for the startup and the break-even point.

Other Saratoga entrepreneur students giving presentations included Kathryn Jones '13, Jessica Singer '13, and Brendan Cottam '13, who consulted with the Inn at Saratoga, and Kelsey Yam '13 and Anthony Giacin '13, who consulted for a Skidmore alumnus looking to launch a high-risk, cause-oriented business. The Inn at Saratoga team focused on creating a more consistent brand and freeing up managers to regularly pay more attention to overall strategy. Yam and Giacin helped their client frame and reframe his business plan and its components-or as Giacin put it, "We provided him with an objective viewpoint. When you're too passionate about an idea, it's easy to lose sight of the big picture."

"Each of these businesses will be positively affected by these student consultants," said Professor of Economics Roy Rotheim, who has directed the program for 12 years.


Playing with fashion
A fashion show featuring historically accurate clothing with a contemporary twist was a concluding event for Honors Forum students in Professor Penny Jolly's art history course "Ad/dressing the body: European Fashion, Renaissance to the Present" (AH268).
Paper dresses
Seven students created garments representing clothing styles from the 1590s to the 1950s, exploring the relationship between dress and history. The unifying element? All of the "clothing" was made of paper, showcasing the students' abilities to exploit the variable properties of paper as well as their understanding of the political, social, and aesthetic complexities of dress design. "Our exhibition seeks to reinterpret historical issues from a contemporary vantage point by using materials as disposable as fashion itself," noted the Academic Fesitval program.

Using newspaper, tissue paper and toilet paper, along with celebrity magazines, party streamers and cardboard, students produced a wildly creative range of garments easily resembling those produced by top fashion houses or preserved in museums. "Our medium, paper, is every bit as flexible and replaceable as the historical dress we have studied," the students said in the text accompanying the exhibit.

Emily Moler '15 called her creation "a dress fit for a queen." Constructed of celebrity magazines, it "reflected the social pressures put upon Elizabeth I during her reign. Just as today's public figures are scrutinized for their behaviors and choices, Elizabeth was similarly judged by her court."

The 1950s-era "Newspaper Housewife" designed by Rachel Fell '14 foreshadows social change. According to Fell's notes, "The 1950's confined women within the silhouette of a housewife's dress and inside the realm of the kitchen. The newspaper is a contradictory medium-a homely object that tells stories of the whole wide world. Newspapers served to give women access to the public world, which they were not allowed to enter."

Jolly, the professor, was impressed by their work. "They've done a great job," she said.


Poster session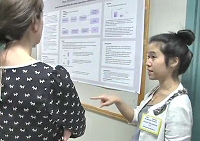 Poster presentation
How do reflections and highlights on an image of a three-dimensional object help or hinder viewers' perceptions of its shape? Could copper be a risk factor for Alzheimer's disease? Are memories of an event distorted when witnesses are asked to fabricate details about it?
Tests on these and other questions were summarized in a poster session at this year's Academic Festival. The session featured 19 student scientists discussing their posters on the psychology, biology, and neuroscience thesis work they conducted this year. Presenters, sponsoring faculty, and visitors swarmed a Tisch Learning Center hallway to exchange questions and explanations about the wide range of research on display [brief video].

In one area, posters laid out the methods, hypotheses, and findings of projects studying the effects of coconut oil and copper on the circadian rhythms of fruit flies that had been genetically engineered to model Alzheimer's disease-for example, showing tendencies for "sundowning," wandering or restlessness in the dark, or other disturbances in time-of-day rhythms. Another poster described a study on the use of cannibinoids (like the active ingredient in marijuana) in adolescence and sexual behaviors in adult females. Elsewhere, senior psychology majors presented their poster summaries, covering research into eye movements when reading rhymes, children's learning by imitation, sexual decision-making, forgiveness when coping with divorce, body awareness and perception in college women, fabrications and memory accuracy, social anxieties and reading, and several other topics.

After the poster sessions, participants joined the Academic Festival closing reception to indulge in some applause, relief and celebration.


Prison project
This spring, eight Skidmore students took the social work elective, Correctional Rehabilitation and Offender Reentry, a service-learning course in which they provided a series of workshops for inmates at Mt. McGregor Correctional Facility, a medium-security prison for men located in nearby Wilton. Owing to the course's focus on the "problems of re-entry into society," workshop topics included education, employment, housing, family reunification, stress management, even the criminal justice system. Taught by "wannabe social worker" David Karp, professor of sociology and associate dean of student affairs, the students presented their perspectives at Skidmore's 2013 Academic Festival.
Professor Karp with presenters
Jean-Ann Kubler '13 took the course because she's always been interested in teaching in prisons, in addition to wanting to investigate her working hypothesis that many people end up behind bars because the "education system failed them," an idea shaped by growing up in central Brooklyn. She discovered it's a bit more complicated. Says Kubler, "I was surprised. A lot of the guys took responsibility for not getting through school. Some liked school, but got waylaid by a combination of family, social, and school issues. Sometimes, it's the little things such as the man who had a passion for football and dropped out when he transferred to a school without a team."

Matt Weale '16 agreed. The feedback he got was that many of the Mt. McGregor inmates believe they "deserved to be in prison and pay their debt to society." On the other hand, Weale was adamant that society's cultural mindset of fearing and shunning those who have done time must change if we expect the 60% national recidivism rate to fall. He spoke of visiting with his classmates a maximum-security facility in Comstock, N.Y., populated by felons and thinking how few employers would be willing to take a chance on them once they were released. Says Weale, "No wonder it's so easy to turn to selling drugs when no one will hire you or give you a second chance." He also took issue with the practice he witnessed of sending inmates to their cells to watch TV rather than handling brewing anger issues. "There isn't always going to be a TV when they return to the real world," he says. "I think they're sweeping issue under the rug."

As for the workshops, Siena Tugendrajch '14 says the real value wasn't primarily the information they provided. "We listened," she says. "We treated them like people. We validated them. I think we helped them remember that they can positively interact with others. They seemed to enjoy hanging out with college students." To a person, the students say they got more out of the experience than the prisoners. Says Kubler, "The knowledge that they could teach college kids was helpful to them. We told them many times how much we were learning from them."

Small victories, for sure. But re-entry is difficult, even for those at medium-security prisons who have better disciplinary records and see light at the end of the tunnel. Says Tugendrajch, "There is one man who has made so many strides but he's burdened by his mother who doesn't believe he has changed." And many just don't have access to information, since they are not allowed to use the Internet and don't have access to regular educational programming. "We were basically their computers," says Weale, "tracking down answers to questions like, 'Will a felony effect my ability to get a contractor's license?'"

"At the end of the day," says Weale, "I just hope that our compassion for them gives them a little boost."