ComFest's a sellout--again
February 7, 2014
ComFest's a sellout—again
Feb. 7, 2014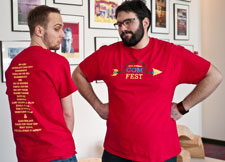 ComFest organizers Jurney (left) and Conley. (Photo by Eric Jenks '08)
College sketch and improvisation groups from around the country are gathering at Skidmore this weekend for the 25th National College Comedy Festival.

"Part comedy-nerd symposium, part comedy gantlet" is how The New York Times described it a couple of years ago. "For many participants the weekend is a turning point, a heady confirmation that, yes, this is what they want to do with their lives. What's more, they might actually have a shot at it."

David Miner, a 1991 Skidmore graduate, organized the first "ComFest" in 1990 and also founded the College's first comedy group, the Ad-Liberal Artists, which is still going strong.

Today, Miner is among Hollywood's top comedy producers, with credits for "30 Rock," "Parks and Recreation" and "Brooklyn 99." Just last week, HBO announced that Miner will executive-produce a new comedy based on Lookaway, Lookaway, Wilton Barnhardt's novel about delightfully flawed characters in high-society Charlotte, N.C.

Tickets to the Friday and Saturday night performances by students and professional comedians always sell out early and this year is no exception. On Friday night, the pros will be Rory Scovel and Kate Berlant. On Saturday night, they'll be Good Cop Great Cop and Upright Citizens Brigade All Stars.

Between 40 and 50 groups applied to participate in this year's ComFest, which has been organized by Ben Jurney and Luke Sovern Conley, both Class of '14. Among those that made the cut: Slow Kids at Play from Boston University, Fools on the Hill from Kenyon College, the Robber Barons from Stanford, Red Hot Poker from Yale, and three groups representing Skidmore: the Ad-Liberal Artists. the Sketchies, and Skidomedy.

This year's festival features a digital theme, with such topics as creating a web series and digital sketch promotion on the agenda. Other workshop topics include focusing on the sketch comedy process and group dynamics, and building a comedic brand.