Skidmore, partners collaborate on special dance event
February 11, 2014
Skidmore, partners collaborate on special dance event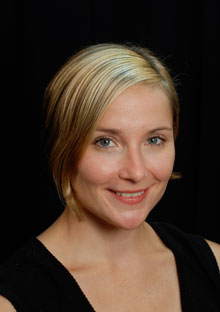 Andrea Weber
Feb. 11, 2014

The Dance Department at Skidmore College will partner with the National Museum of Dance and the Merce Cunningham Trust to host a Merce Cunningham "MinEvent" for Skidmore dance students early in the spring semester. The collaboration will feature as its final event a lecture/demonstration and program Sunday, Feb. 16, at the Tang Museum.
Andrea Weber, former Cunningham dancer and currently an MCT authorized stager, will be in residence at Skidmore from Feb. 5 to 16. She will share Merce Cunningham's technique and repertory with selected dancers in the two-week intensive workshop. The residency will culminate in a program at the Tang Museum titled Skidmore MinEvent: Experiencing the Legacy of Merce Cunningham. The program, which begins at 2 p.m. Feb. 16, will feature a short lecture/demonstration, followed by the performance of a 30-minute "MinEvent." Admission is free and open to the public.
Weber will introduce to students the technique developed by Merce Cunningham to train dancers for the company. Cunningham Technique© emphasizes rhythmic accuracy, clarity of form, coordination of torso and legwork, and development of virtuosity.
In rehearsals, the participants will learn excerpts from several dances choreographed by Merce Cunningham. The excerpts will be taught separately then sequenced into a continuous and unique MinEvent. Chance procedures will be employed to help determine the order of the MinEvent. This process will be shared in the lecture/demonstration prior to the final showing.
Debra Fernandez, professor and chair of Skidmore's Dance Department, said, "The Skidmore Dance Department is thrilled to finally be hosting a Cunningham residency and excited to collaborate with the National Museum of Dance on this project."
She continued, "We have been talking about this for years and waiting for the right moment. Coincidentally, last summer the National Museum of Dance reached out to us to talk about ways in which we might partner to bring an understanding and awareness of modern dance to this area. Hence, the decision to partner with the museum and to present, as our first educationally based performance, the ideas and work of one of the great geniuses of the dance world, Merce Cunningham."