Tang exhibits large-scale works from its collection
February 18, 2014
The Tang Teaching Museum and Art Gallery is offering visitors an unusual chance to view large-scale works from its collection and to gain a greater appreciation for the role of a "teaching museum."
One Work, which runs through June 1, is accompanied by a series of five dialogues with the artists. The events are fee and open to the public.
"Bouquet" by James Esber,
plasticine on panel
The exhibition features a selection of recent large-scale artworks from the museum's collection that showcase a range of approaches to subject matter and media. The works include painting, photography, sculpture, and installation. The exhibition offers one work each by artists David Brooks, James Esber, Elger Esser, Anya Kielar, Julian LaVerdiere, Ann Pibal, Katy Schimert, Jonathan Seliger, and Beverly Semmes.

Alongside the gallery installation, One Work will be the site for a series of dialogues with the artists organized by Skidmore students in an art history seminar that explores the archive and how the museum documents its collection.
"We are turning the Wachenheim Gallery into a classroom and inviting the public in," says Dayton Director Ian Berry, who is teaching the course. The nine artworks form a syllabus for the class, Berry explains, offering students a chance to learn how to conduct original research and interview artists. Their artist interviews will be recorded and archived.
The educational opportunity extends to the community as well, Berry explains, offering a "free mini-course on what's happening in contemporary art." Five of the artists visiting the college will offer One Work: One Hour dialogues on Thursdays at 5:30 p.m.
The schedule for the dialogues is as follows: abstract painter Ann Pibal, February 20; sculptor David Brooks, March 20; multimedia artist Anya Kielar, March 27; Beverly Semmes, who creates large-scale installations, April 3; and on April 24 Julian Laverdiere, an artist and production designer whose works have included the installation "Tribute in Light" (2002) on the site where the World Trade Center stood.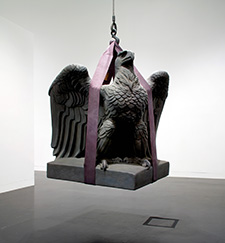 "Lost Cornerstone" by Julian LaVerdiere
Lavardiere's work in the Tang's exhibition, "Lost Cornerstone" (2003), is a recreation of one of the giant eagle sculptures that graced the entrance of NYC's old Penn Station. The work has a cameo role in the upcoming movie "The Amazing Spiderman 2," which is due to be released around the time of Lavardiere's visit to Skidmore.
Another work with NYC ties is David Brooks's "Stress Tests: Un-sites No. 1-2 & 3-5 (homage to Gordon)" (2013), adapted from his monumental "Desert Rooftops" (2011) installation at 46th St. and 8th Avenue that compared urban sprawl with the process of desertification.
One Work and the One Work: One Hour series are supported by the Alfred Z. Solomon Residency Fund, established by a bequest to Skidmore College in 2005 and aimed at engaging notable scholars, artists, and critics for collaborations among Skidmore's Art History Department, Studio Art Program, and the Tang Museum.
To visit the Tang web site, click here.