#ThanksLucy
March 13, 2014
#ThanksLucy
Nearly 500 students expressed their gratitude to Skidmore's donors on National Student Philanthropy Day.
March 13, 2014
"Thank you" were the buzz words on National Student Philanthropy Day, when students were encouraged to reach out to the 8,100 donors who gave last year to the College. Tables and posters across the campus were set up for students to stop briefly to express their gratitude.
Additionally, Skidmore President Philip Glotzbach and Sam Harris '14, president of the Student Government Association, helped build momentum in the days leading up to the event by sending campus-wide e-mails encouraging students to participate.
More than 100 colleges and universities hosted similar activities for the Feb. 27 National Student Philanthropy Day, organized by the Council for the Advancement and Support of Education to raise awareness about the effect of donor generosity on the daily lives of students.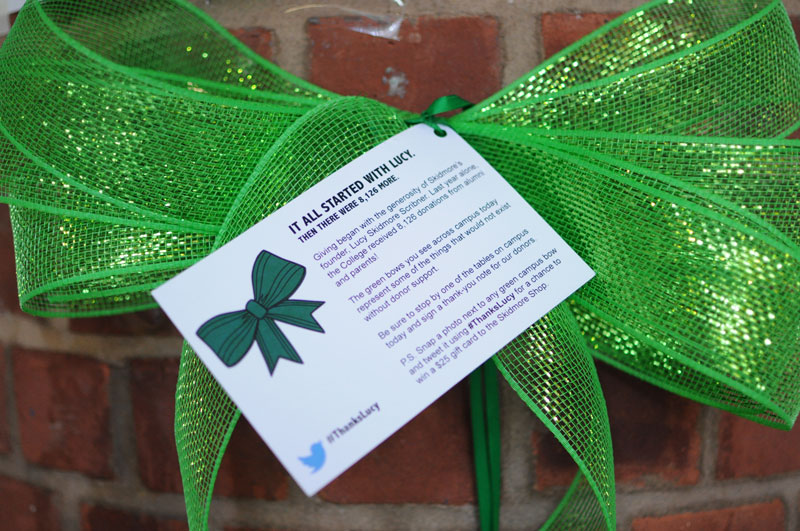 Signs with green bows were posted throughout campus
on items that would not exist without donor support.
Skidmore's observance featured green and yellow horseshoe-shaped cookies, photo opportunities with a life-size cardboard cutout of College founder Lucy Skidmore Scribner and Thoroughbred mascot Skids Scribner. New this year: signs with green bows were posted throughout campus on items that would not exist without donor support. Students were encouraged to take photos of themselves with the green bows and tweet them using #ThanksLucy.
Those who wrote and tweeted were entered in a drawing for a $25 gift card to the Skidmore Shop campus bookstore. Winners were Tobi Ewing '15, Sarah Lampert '17, Lauren O'Donnell '14, and Joe Klockowski '14.
A few excerpts from student thank-you notes:
"Your gift helped me to enter the Ken Freirich Business Competition, and pursue a double major in political and computer science. Every gift to Skidmore as a whole is a gift to every student as an individual." – Marcella Jewell '15


"As a sophomore from South Africa, I carry a large gratitude for the good will of people such as yourself. I have made friends, expanded my horizons and taken large strides to achieve my dreams at Skidmore. This could only have been achieved with your help." – Modupe Theko Lekena '16


"Muchismas Gracias, Me encanta Skidmore y quiero decivse gracias por todas las contribuciones auxiliaras! Estoy de acuerdo con todos los planes de Skidmore. Hasta la prozima, Victoria Siempre." Translation: "Thank you, I love Skidmore and I want to tell you thank you for all of the contribution assistance! I am in agreement with all of Skidmore's plans. Until next time – Victoria"


"I am writing to express my deep appreciation for your kindness and generosity as a supporter of Skidmore College. You've helped many students like myself realize their passion and dreams here at Skidmore. Thank you!" –Jenny Kim '15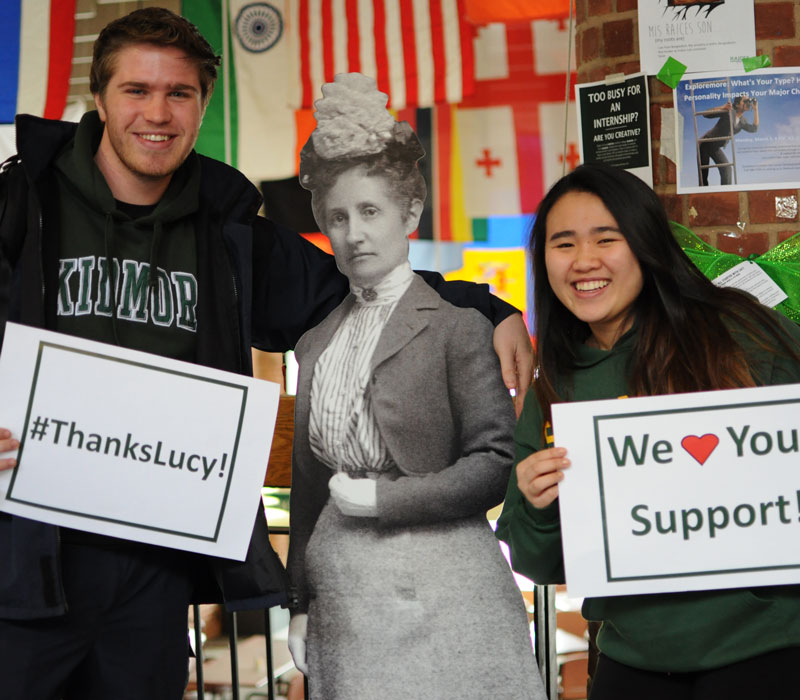 Students seized the opportunity to take photos with a life-size cutout of
Skidmore's founder, Lucy Skidmore Scribner.
"I am very thankful for all the extraordinary opportunities that I have received from Skidmore. The professors, the students, and all the staff have made my 'America' college experience worthwhile. Skidmore really has taken a big part in shaping my future." – Mende T. Yangden '16
By the end of the day, nearly 500 thank-you cards were signed and were scheduled to be delivered to donors.