They're Back! Alumni reunion 2014 under way
May 29, 2014
They're Back! Alumni reunion 2014 under way
May 29, 2014

Approximately 700 alumni will be in Saratoga Springs from Thursday, May 29, through Sunday, June 1, for the annual Skidmore College Alumni Reunion.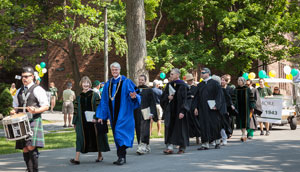 Alumni Association President Gail Dudack '70 and President
Philip Glotzbach lead the Parade of Classes at Reunion 2013.
Members of classes ending in four and nine will be special guests during the weekend. Mike Sposili, executive director of alumni affairs and college events, says this group of alumni is known for an enthusiastic response to reunion. "The last time this group gathered, in 2009, we had a good turnout," Sposili said. He added, "We're on track to surpass 2009." The numbers to date bear out Sposili's prediction. Current registration for the weekend totals 696 alumni and a total of 922 people (alumni and guests) registered. At this point five years ago, 546 alumni and a total of 747 alumni and guests registered.
The most senior class attending is the Class of 1949, with three people registered for their 65th reunion. The youngest class is the Class of 2009, celebrating its fifth reunion and setting a record with 187 members registered. The Class of '09 has broken the attendance record previously held by the Class of 2006, which saw 158 attendees at its fifth reunion in 2011.
Milestone reunions are being celebrated by the Class of 1989, observing its 25th reunion, and the Class of 1964, marking its 50th.
Christopher Heider '89 of Thalwil, Switzerland, is traveling the farthest: 3,826 miles; and a number of Saratoga Springs-based alumni are less than five miles from campus.
For those who have not recently visited campus, there are a number of major changes: the Arthur Zankel Music Center opened in 2010 and Sussman Village apartments opened just last year.
Highlights of the Reunion program include the parade of classes on Saturday morning, prior to the Alumni Awards and Recognition Ceremony, the Alumni Reunion Art Exhibition, and numerous mini-college classes offered by Skidmore faculty.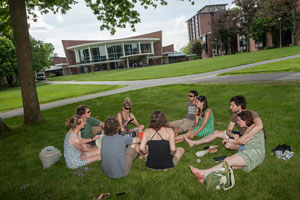 Alumni gather for informal meet-up on campus.
The annual Alumni Awards and Recognition Ceremony is scheduled Saturday morning. Honorees include award-winning scientist Sallie W. Chisholm '69, who will receive the Distinguished Achievement Award; Winnie H. Wan '74, who will receive the Creative Thought Matters Award of Distinction; Judith Pick Eissner '64, 50th Reunion Service Award; and the following Outstanding Service Award winners: Susan Clark Jorgensen '59; Valerie Burkhardt Marier '64, P '92; Judith Roberts Kunisch '69, P '00; and Meredith Eastman Pincipe '94. Seth D. McEachron '04 will receive the Joseph C. Palamountain Award for Young Alumni Achievement.
While the Skidmore campus will be reunion central, there are many opportunities for alums to enjoy Saratoga Springs, through class gatherings at area hotels and other sites, including the Casino. The 20th annual Alumni Golf Tournament will take place Friday at the Saratoga Spa State Park.
An event at the City Center highlights a special town/gown connection. At 7 p.m. Thursday, May 29, at the Saratoga Springs City Center, Skidmore alumna Jocelyn Arem '04, historian of Caffè Lena, will present an overall history of the Caffè. She will share an overview of Caffè Lena History Project—an 11-year initiative in partnership with the Saratoga Springs History Museum that unearthed Lena's secret memoirs, collaborated with photographers to identify and rescue mysterious negatives, and collected stories from the original artists to highlight these materials—creating a book, CD box set, exhibition, and the very first Caffè Lena archival collection and searchable database to share this treasure trove of authentic and rare Americana with the world. The free event is sponsored by the Alfred Z. Solomon Program Series.