New developments for Skidmore garden
June 12, 2014
A message from Skidmore Community Garden Manager Eliza Hollister '15:
This coming Saturday June 21st from 10am-noon we will be holding another garden work party, where all are welcome to come check out what we have been doing here at the garden and get a chance to experience some hands-on gardening. We will be spreading wood chips on the walking paths, planting vegetables, and working on a number of other little odd jobs. Refreshments will be provided.

Skidmore's student garden has a new location and a new name, but remains true to its founding tenet: to use sustainable practices to grow good food for the Skidmore College community.
Begun in 2009 next to the Colton Alumni Welcome Center, the garden moved this past year to a more central location on campus: Wiecking Green. The new location is a highly visible opportunity to demonstrate the College's ongoing commitment to sustainability. A group of students, staff, and faculty developed the new garden site and is thrilled to be growing fruits, vegetables, herbs, and flowers on Wiecking Green.
The move followed a yearlong effort by a dedicated group of students working with staff and faculty to find a suitable location for the garden. The team sought to make the project as inclusive as possible, calling on the campus community for ideas and suggested crops and then renaming it the Skidmore Community Garden.
Sustainability Coordinator Rachel Willis and Nick Graver '16
Katy Brittenham '14, with the help of many others, developed a plan that integrated the community's ideas with the unique features of the space, resulting in a plot shaped like a butterfly wing. Margot Reisner '14, Brittenham, Jaya Borgatta '16, Jessica Street '16, and Zia O'Neill '17 presented the garden design and received support from the Student Government Association.
During the building and planting, students in the "Sustainable Agriculture" course used the project to fulfill the service-learning component of their class, some of them seeding and maintaining crops, others collaborating with Dining Services to plan the campus herb garden next to the Murray-Aikins Dining Hall. Seeds were started and nurtured in the Skidmore greenhouse during the spring semester and transplanted to the garden once the danger of frost passed.
Visibility and accessibility are key elements of the Skidmore Community Garden. At its old site, Brittenham recalled, "People didn't know we even had a garden before. Getting people there and getting people to help out at the garden parties was a real challenge."
The new location makes it visible to students, faculty, staff, and visitors, even inviting them to walk through it rather than around it.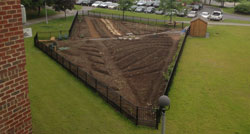 This view of the new garden shows its distincitve
shape. (Photo provided by Sustainable Skidmore)

The intent of the garden is not only to grow food but also to serve as an outdoor classroom, a gathering place, and a tool to educate about sustainability and sustainable food systems. Support for the effort has come from several departments on campus. Mark Miller, director of dining services said, "Dining Services is proud to partner with the Community Garden to heighten awareness about local food purchases and to assist in teaching students and staff about the important value of food. We look forward to putting this wonderful produce on our menus and allowing all of our guests the opportunity to enjoy it."
Community members are welcome to help in the garden during the growing season. Several work parties are planned throughout the summer. All are welcome to take a quick tour of the garden and get their hands dirty in the new garden soil. For updates on Community Garden events, please check the Sustainable Skidmore Facebook page or Tumblr account.

[Cover photo: Eliza Hollister '15, garden manager (left), Rachel Willis, sustainability coordinator, Olivia McKee '16 , Miranda Holmes, '17, and Laura Mindlin '15, (front row); Levi Rogers, sustainability coordinator (left), and Nick Graver '16 (back row). Photos by Eric Jenks '08.]