Can democracy be saved?
July 7, 2014
What happened to democracy? How can we reclaim it?
Those crucial questions will be the focus of a week-long seminar offered July 12-19 by Skidmore College in its master of arts in liberal studies program. "Civil Society for Sale?" will be led by Rik Scarce, chair and associate professor of sociology and team-taught by four other faculty.
"The ongoing NSA scandal, the outsized presence of corporations in American politics, and the polarization of the electorate make reclaiming democracy's essence more urgent and more challenging than ever," said Scarce. "These issues are not the realm of government alone; from social work to sport, American studies to sociology, chemistry to art, no subject matter is untouched by the challenges confronting civil society."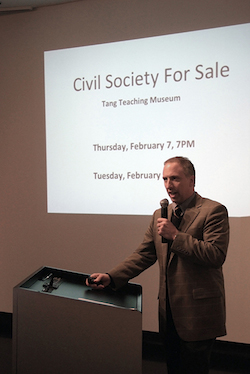 Sociologist John Brueggemann is one of five
faculty teaching the MALS summer seminar.
The course builds on a program presented at Skidmore's Tang Teaching Museum and Gallery in connection with We the People, a recent show that explored constitutions and how they act to create order, configure communities, and form a collective identity. All of the faculty teaching in the MALS course made presentations in that program.
In addition to Scarce, who will present on social movements, these faculty include:
John Brueggemann, Quadracci Professor in Social Responsibility, who will provide an overview of key questions to be asked regarding the reclamation of democracy;
Rick Chrisman, director of religious and spiritual life, who will focus on the religious dimensions of the topic;
Andrew Cencini, a member of the computing faculty at Bennington College and a Skidmore master's graduate, who will focus on digital technology and media;
Pat Oles, associate professor of social work, will focus on non-profit social welfare organizations.
In connection with these presentations, course participants will discuss background readings and course-related films.
The seminar provides a transition from undergraduate to graduate studies, introducing students to the conventions and expectations of interdisciplinary graduate work. This summer's seminar has been extended by several days so as to include instruction in graduate methods, research, and writing, and modeling methods of inquiry and approaches that students are expected to practice.
"Many alumni tell us that the most powerful aspect of the seminar experience is learning how to draw connections between disciplines, and specifically between the seminar topic and their own areas of concentration," said Jacqueline Scoones. "Through the seminar, we challenge students to develop new ways of thinking and their intellectual rigor."
Previous MALS seminars have examined such topics as sustainable development and corporate responsibility, death as a psychological, philosophical and artistic force, and the roots of democracy in the Greek aesthetic at the time of Pericles.
Students complete the course readings before arriving on campus and write a research paper during the month following the class. Most students stay on campus during the seminar week. During the seminar, each student meets with his or her academic and MALS advisors to develop the plan of study that clarifies the theme organizing the student's curriculum and maps out the courses the student will take.
After completing the on-campus introductory seminar, students continue their programs of study without being in residence at Skidmore, through various modes of study.
For more information about the program, click here