North Woods events to take advantage of nature's glory
July 11, 2014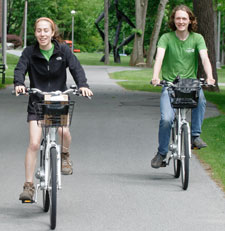 Mindlin (left) and Graver test ride new bikes forSkidmore Bikemore (Eric Jenks photo)
North Woods stewards Nick Graver and Laura Mindlin have announced the final three events in their summer 2014 program. All events are free and open to the public.

--Saturday, July 12, 9:30 p.m.—Moonlit Walk in the North Woods

July's full Buck moon should be visible on Saturday, July 12. Join us for a walk down one of our trails as we experience the unique light and energy that this occurrence brings. We will be telling some scary stories from the history of the North Woods and surrounding area, so get your jitters out now! Don't forget your flashlight. S'mores will be included too!
--Wednesday, July 16, 6:30 p.m.—Kids Night in the North Woods

We're trying again, and hoping for good weather! This will be an event primarily for kids (however parents are totally welcome too), where we will take a sensory walk down one of our trails, draw our discoveries, and gather back together for some s'mores of course! We will be meeting at Falstaff's on Skidmore's Campus at 6:30 p.m. The event should last about an hour. Long pants, sneakers, and bug spray are highly recommended.

If you are interested in participating, please email Laura Mindlin to RSVP at so we know how many s'mores fixings we will need.

Rain date for this event will be the following Wednesday, July 23, —same time and place.

--Saturday, July 19, 10 a.m.—Mindfulness Workshop in the North Woods
Nature has a way of calming us and helping us achieve a state of awareness of our selves and our surroundings.

Join us on July 19, as expert Suzanne Rancourt guides a mindfulness walk through Skidmore's North Woods. This will be a chance to escape from the pressures and routine of daily life, and further establish the mind-body connection in nature. This walk will integrate mindfulness and stress-reduction approaches along with Native philosophies.
This event is open, and free to the public. It will last an hour and a half, with time for discussion immediately following. Rain date for this event will be the next day, Sunday, July 20, same time and place.
A Maine native who currently lives in Saratoga County, Rancourt works in the field of expressive arts therapy—a non-invasive, participatory approach to wellness. She is a doctoral candidate in Expressive Arts: Therapy, Education and Consulting; a military veteran; and has 30+ years of professional experience in counseling. Throughout her own experiences as well as her work with a diverse array of communities, Rancourt has learned to bring patience, strength, courage and realism to the many perspectives she has lived. She also incorporates teachings from her Native American heritage into her approach, making her methods integrative and unique in the field of mindfulness. Learn more about her work here.
Feel free to "like" the North Woods Facebook page at "Friends of the North Woods" and/or follow our blog for more information.