Navasky's Fox-Adler focus: Political cartoons
September 12, 2014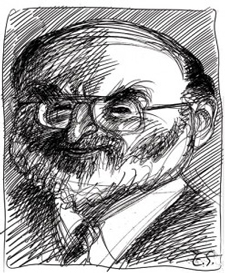 Victor Navasky by Edward Sorel
Author, editor and publisher Victor S. Navasky will draw on his most recent book when he delivers the 26th annual Fox-Adler Lecture at Skidmore College in September. "The Art of Controversy: Political Cartoons and Their Enduring Power" is the title of Navasky's talk, to be presented at 5:15 p.m. Thursday, Sept. 18, in Gannett Auditorium of Palamountain Hall.
A reception and book signing will immediately follow in the Class of 1967 lobby adjacent to the auditorium. Admission is free and open to the public. WAMC's Joe Donahue will air his interview with Navasky at 11:05 a.m. Monday, Sept. 15, on 90.3 FM or streamed live at wamc.org.
Navasky's talk has the same title as his newest book, which describes how transformative and incendiary cartoons can be. He said, "Cartoons and cartoonists are usually thought of as irrelevant, trivial, 'not serious.' However, that is not true. Daumier was thrown into prison for his cartoons, Herblock was near the top of Nixon's enemies list, and the leading Palestinian cartoonist was murdered on the streets. My lecture will discuss the role of political cartoons and editorial cartoonists in light of all of the above."
Navasky has served as editor, publisher and now publisher emeritus of The Nation, which he joined in 1978. He is also the George Delacorte Professor of Magazine Journalism at the Columbia University Graduate School of Journalism, where he directs the Delacorte Center of Magazines and chairs the Columbia Journalism Review. In the 1970s he served as an editor on The New York Times Magazine. In the 1960s he was founding editor and publisher of Monocle, a "leisurely quarterly of political satire" (that meant it came out twice a year).
His books include Kennedy Justice, Naming Names, which won a National Book Award, and (with Christopher Cerf) The Experts Speak: The Definitive Guide to Authoritative Misinformation and also Mission Accomplished! Or How We Won the War in Iraq, and A Matter of Opinion, which won the 2005 George Polk Book Award and the 2006 Ann M. Sperber Prize and of which The New York Times wrote, "Anybody who has ever dreamed of starting a magazine, or worried that the country is losing the ability to speak seriously to itself, should read A Matter of Opinion…"
Navasky is a member of the American Academy of Arts and Sciences. His most recent publications are The Art of Making Magazines: On Being an Editor and Other Views for the Industry edited by Navasky and Evan Cornog, and The Art of Controversy: Political Cartoons and Their Enduring Power (Knopf, 2013).

Skidmore's Fox-Adler lecture series is named for Norman M. Fox and Hannah Moriarta Adler, connoisseurs and collectors of rare books. Adler first loaned her extensive collection of 19th-century books to Skidmore in 1967, and after her death Fox and his family took charge of it, later donating it permanently to Skidmore's Scribner Library. Catherine Golden, professor of English at Skidmore, coordinates the Fox-Adler program at the College.