Jan Vinci to perform in concert Feb. 27
February 26, 2015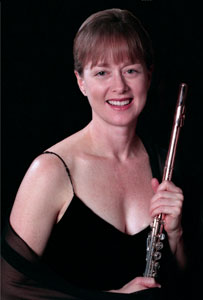 Jan Vinci
A concert of American flute music performed by Jan Vinci, senior artist-in-residence at Skidmore, and internationally renowned pianist Reiko Uchida is scheduled for 8 p.m. Friday, Feb. 27, at the Arthur Zankel Music Center. The program includes works by Griffes, Hindemith, Hoover, Higdon, and Mark Vinci. Admission is free and open to the public.
First prizewinner of England's International Electric Music Performance Competition, Jan Vinci has performed in Alice Tully, Carnegie, and Merkin halls. Besides performing for events such as the Blossom Festival in Ohio, ICMC in the Netherlands, Electric Music Festival in England and Killington (Vt.) Music Festival, she is often featured artist for flute club festivals and performs for NFA conventions.
Vinci has recorded three CDs on Albany Records. American Record Guide called her Global Flutescape ... "a fabulous recording. ... [Vinci] plays with control, color, and effortless technical facility. Her tone is beautiful, rich..."
A proponent of new works, Vinci last April premiered Mark Vinci's "TINGsha Bom t-Bom ti-Bom for flute and orchestra" at a performance in Tennessee. In November she and the Skidmore Concert Band premiered Carleton Macy's "Autumn Sky: Fantasy for flute and concert band." This year's calendar includes the spring premiere of a new work by Tom Stoneman for flute and hip-hop artist. In October, as part of the Flute New Music Consortium, Vinci and 15 other professional flutists in separate venues will simultaneously perform a new work by Pulitzer Prize-winner Long Zhou.
Reiko Fujisawa
Reiko Fujisawa took up the piano at the age of three. It was an unusual direction for the traditional family milieu in which she grew up in the most southerly of Japan's four main islands: her parents played traditional Japanese instruments but were keen for Fujisawa to expand her musical horizons. She studied at the Musashino University of Music in Tokyo and Trinity College in the UK. She has been in London ever since.

Fujisawa made her debut at the Southbank Centre in 1999, and at the Wigmore Hall in 2003 and performed with the Soloists of the Royal Philharmonic Orchestra in the inaugural season at Cadogan Hall in London in 2006. She has since made appearances at prestigious venues all over the UK and overseas. Her UK festival performances include Brighton, Belfast and Warwick and Leamington.

Fujisawa's performances are characterized by her personal warmth and her ability to present a dialogue between pianist and composer. She said she feels especially at home among the deep emotional textures of Beethoven, the joyful spirit of Schubert's impromptus and – her most recent discovery – in conversation with Bach.
Fujisawa's ensemble work includes playing with the Wind Principals of the London Orchestras and in a Piano Trio with members of the Allegri Quartet.