Skidmore's youngest students take action to fight cancer
April 30, 2015
by Jessica Kong '16
Skidmore's Early Childhood Center (ECC) teamed up with the College's Greenberg Child Care Center to hold a "Trike-a-Thon" April 23 and 24 to raise funds for St. Jude's Research Hospital, located in Memphis, Tenn. In addition to researching cures for a wide range of cancers, St. Jude's is dedicated to the care of children who are battling cancer, and their families.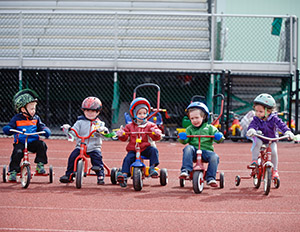 Three-, four-, and five-year-olds from both centers gave it their all as they rode tricycles around Skidmore's running track, which surrounds Wachenheim Field. Children were sponsored by donors whose contributions were sent along to St. Jude's. The event was organized by ECC Director Mary Ellen Towne, Greenberg Center Director Nancy Wheeler, and Greenberg teacher Natalie Darrow, with the help of Skidmore students. Snacks were provided by Skidmore's Dining Services.
"The goal of the event is to increase awareness and to raise funds for children in need," said Towne. "We have done the Trike-a-Thon as an annual event since 2010 with children in the Early Childhood Center. This year we combined forces with the Greenberg Child Care Center, and we raised $3,700 dollars."
Said Yianni Stathopoulos '17, an exercise science major who volunteered to help with the event, "It was really fun. They were all super excited from the start. I was out there all morning putting streamers on the handlebars of their trikes to decorate them."
Safety was a top priority. Leading up to their laps around the track, the young riders reviewed safety procedures. The focus was on riding rather than racing, and on safety, such as wearing a helmet.
"We talked to the children about why they were riding, how their effort will help children who are sick," said Towne. "We want them to understand that they are making a difference."