Odekon in high demand, from classes to committees
January 11, 2016
This year's winner of a faculty award for service, Mehmet Odekon, is also a big hit with students.
Economics is not renowned for being a bundle of laughs. But when students describe Professor Mehmet Odekon—or, affectionately, just "Odekon"—they often cite his sense of humor first. And probably his sense of fairness second.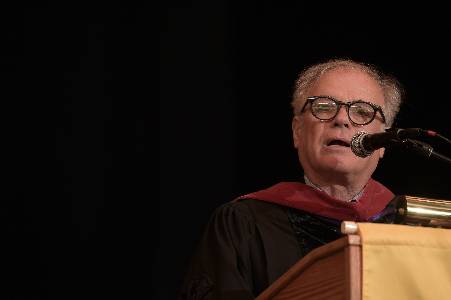 Professor Odekon at Commencement 2015.
His courses are popular: "Income Distribution" for spring 2016 already has a waitlist. And last year the senior class chose him as the faculty speaker for Commencement. His speech focused on social and economic injustices. Inspiring a standing ovation, he urged the class: "Don't be silent and indifferent. Be fearless; emphasize relentlessly that these problems are related to the excesses of the socioeconomic system we live in, and that we share the responsibility to find solutions to them." (Read his full speech here.)
Odekon's passion for social justice shows in his engagement in the campus community. He earned the 2016 Distinguished Faculty Service Award for such roles as:
Chairing his department
Serving on a nondepartmental search committee
Participating in administrative reviews
Serving on campuswide task forces
Serving on the Faculty Executive Committee
Serving on the Committee on Appointments, Promotion, and Tenure
So far, the only other faculty member to match these achievements is sociologist John Brueggemann.

Odekon's advantage? His ability to conjugate a Turkish verb.