Mentoring at-risk teens
May 18, 2016
Chowderfest, a winter festival in Saratoga Springs, is a favorite event for Skidmore students and local teenagers who taste-test it together as part of Saratoga Mentoring. A program of Catholic Charities, the mentoring partnerships help at-risk youngsters develop confidence, life skills, and resilience through a consistent, trusting friendship with a caring adult.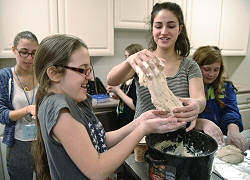 Six Skidmore seniors have been volunteering for several years with their mentees, engaging with them not just at Chowderfest but also in a campus scavenger hunt, the Skidmore dining hall, the Tang Museum, a corn maze, crafts, baking, shopping, hiking, and watching movies. Sometimes it's one on one, sometimes as a group.

For 16-year-old Cierra, whose mentor is Rachel Castellano '16, the bond has "helped me with family issues. I used to be shy, but Rachel has helped me to be more outgoing. She is like a big sister—she's there for me." And Castellano says the mentoring has become "a close friendship. I view our time together as a change of pace from the normal routine both Cierra and I have. She is so mature for her age, yet still idealistic. She constantly surprises and impresses me with the clarity with which she views the world."

The two saw each other three or four times a month and talked on the phone at least weekly. They know it will be harder to continue their closeness after Skidmore's graduation this month. But Castellano, who wants a career addressing social justice, says, "I would love to be a source of advice and good energy for Cierra as she moves on to looking at colleges."

When mentor Jessica Saney '16 went with mentee Kodie, 13, and Kodie's mom for some group "beauty fun" at the mall, the kids sampled makeup and took photos. Kodie recalls another mentor, Brendis Gonzalez '16, saying it was an "aha moment: they looked so grown-up." And Rianna Lloyd '16, a mentor to Morgan, 14, notes that bringing mentees to campus makes college seem realistic to them and inspires positive post-high school goals. "My family life is tough," Morgan admits, "but Rianna gave me the confidence to jump off the diving board."

Brenda Jensen, director of Saratoga Mentoring, emphasizes that a mentor "is not a social worker, teacher, parent, or psychiatrist. The goal is to have fun and learn together." But she has high praise for the Skidmore students and their good influences. Each is interviewed extensively before being matched with a teen. Families can request mentors with particular backgrounds or interests, and Jensen tries to respect those preferences, but she has also seen mentees come to appreciate different personality types and lifestyles. "They may meet their mentors' friends and classmates, and it can be a beautiful thing to see their minds broaden," she says.

Jensen is particularly pleased with the mentors' reliability and commitment to service. Every one of the six graduating seniors, she notes, made time to maintain a long relationship with their mentee. "Also," she says, "because they are college students, our kids think of them as cool, like rock stars. They listen to them and love to spend time with them"—time that has encompassed many ups and downs of "adolescent transitions over the past few years."

Just by sharing their personal and Skidmore experiences, Jensen says, the mentors can introduce youngsters to unfamiliar arenas like neuroscience, dance, or chemistry—opening "a new world of tangible opportunities."