Varone dance residency
June 10, 2016
Six Skidmore students are among 40-plus dancers from around the country who are studying and presenting during this summer's residency of the renowned Doug Varone and Dancers.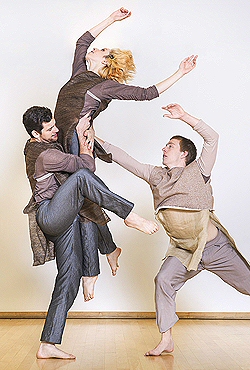 Casey Loomis '08 with fellow Varone dancers
The troupe was also on campus in 2004, when Casey Loomis '08 studied with them before starting her freshman year; now she's a professional member of the company, which is known for its vision, versatility, and prowess. Critics have noted that from the smallest gesture to full-throttle bursts of movement, Varone's work can take your breath away. The three-week Skidmore program includes not only classes, but also public rehearsals, lecture-demonstrations, and performances.

A June 17 company performance (preceded by an audience-wide champagne toast) will kick off the Saratoga Performing Arts Center's 50th anniversary season. Tickets—just $19.66, in tribute to SPAC's inaugural year, 1966—can be puchased at spac.org or 518-584-9330.
On campus, the Varone dancers will show new member-created works June 14 at 7:30 p.m., and will present company works in progress June 23 at 7:30 p.m.; both are free of charge, in Skidmore's Dance Center, Studio 1. Also, open rehearsals give the public a free peek into how the dancers work and practice, Mondays–Fridays, noon–2:15 p.m. in the Dance Center.

Doug Varone and Dancers, headquartered at the 92nd Street Y, have toured across North and South America, Europe, and Asia, including at the Kennedy Center, Lincoln Center, Brooklyn Academy of Music, San Francisco Performances, London's Queen Elizabeth Hall, Toronto's Harbourfront, Moscow's Stanislavsky Theater, and the Venice Biennale. Varone has won Guggenheim, Obie, Bessie, American Dance Festival, Doris Duke, and National Dance Project awards.