Skidmore polo abroad
August 17, 2016
"Quick, smart, and absolutely gorgeous." Of course that describes every Skidmore student! But it was meant for the horses at a world-class polo club in China, where Skidmore students got to play this summer.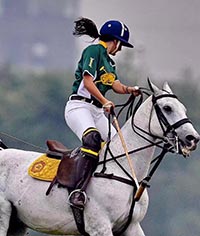 Rafa Iturralde '18 in action
Rafaela Iturralde '18 says the trip was dreamlike, the stables impressive, and the horses dashing—literally. At home, she explains, the Skidmore polo team plays in an indoor arena—"a much slower version of the sport," which allows beginners to take part. In China, she found the polo ponies "in peak shape, prepared for fast grass-field games."
Those games took place at Tianjin's Goldin Metropolitan Club—perhaps the premier polo facility in all the world. Each summer the club'' billionaire owner provides airfare and luxury accommodations for six polo teams from elite western universities, for exhibition matches and for cultural exchange and networking with Chinese students. This year's teams were from Skidmore, Harvard, and Cornell, as well as Oxford, Cambridge, and London University.
On horse-tryout day, the teams each found 20 mounts that matched their abilities, so each team had its own string of ponies for the July 12-17 tournament. Astride, Skidmore fielded Charlie Bullis '16, Rafa Iturralde '18, Santiago Avendano '19, Aaron Schneider '19, and Meggie Danielson '17 (whose father, Christopher Danielson '86, also learned polo as a Skidmore student).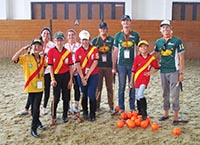 Sharing Skidmore ballcaps with local kids
Off the field, the five met with local residents and gave a presentation about Skidmore to some 25 students and parents interested in American colleges. According to trip leader and unofficial coach Jed Lavitt '77 (who co-founded the team in 1975), "Rafa did a great job talking about the international student scene at Skidmore." Lavitt had brought along "Creative Thought Matters" stickers translated into Chinese and handed out more than 50 of them. Iturralde says, "We got to meet people from prestigious universities in the US and the UK and talk to them about their majors and graduate programs."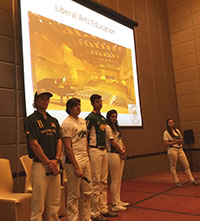 Serving as admissions ambassadors
Also the team met with incoming first-year Skidmore student Junxi Gao, who was, Lavitt says, "terrifically impressed with the warmth of our students towards him. Though he's never been on a horse, he is talking about joining the club. We'd love to have him."
On the field, the competition was stiff. As Bullis told Lepan Media, "It was several of my teammates' first time playing on grass at that speed and intensity, and with each game, I saw significant improvement in our play." The Hurlingham Polo website reported that "debutants Skidmore Polo Club put the University of Cambridge Polo Club to the sword with a comprehensive 10-3.5 victory." At one point, "Skidmore's Santiago Avendano was thrown from his steed, but he managed to brush off the cobwebs and ride again within moments."
Describing the close semifinal loss to Cornell, Lepan reported: "Charlie Bullis has been Skidmore'' main creative force in the tournament, but it was teammate Meggie Danielson who got on the scoresheet first, following a strong Bullis pass." Later Bullis made "a beautiful run over two-thirds of the pitch" and scored a goal from 30 yards. Avendano also scored "after knocking forward two perfect approach shots."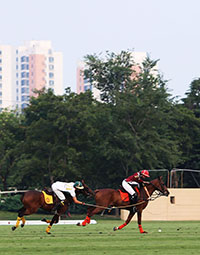 Charlie Bullis '16 on the tail
of a Cornell opponent
After Oxford won the championship, Lepan Media quoted Lavitt: "With 2,600 students, Skidmore is tiny in comparison to our competitors. How proud I am that the team came in the top three." Iturralde agrees, pointing out that for her and Danielson, "it was challenging to play at the same level of Charlie, Aaron, and Santi, who have been playing for many years." Also, for grass play the polo balls are smaller and harder than the inflated ones used indoors.
She says a highlight for her was that "Santi comes from Argentina, Meggie from Vermont, Aaron from California, Charlie from Rode Island, and me from Ecuador, and we bonded a lot as a team." Lavitt explains, "We only had about a month to put the team together" before it debuted in the rarefied atmosphere of the Metropolitan Club tournament.
He's quick to add, "None of this would have happened without the efforts of Will Orthwein '92 and Tabitha LeClair Orthwein '91. I can't imagine what Skidmore polo would be without their hands-on support. Will is the head coach. I'm just the guy who went along to organize and coach as best I could."
Iturralde says, "Representing Skidmore overseas at such a recognized tournament was an honor for the whole team."
Iturralde, Avendano, Lavitt below, Bullis, Schneider, Danielson