Thoroughbred spirit runs strong
October 6, 2016
More than 200 alumni returned to campus for Thoroughbred Spirit Weekend, the College's inaugural homecoming. With a tented tailgate party at Wachenheim Field, inductions into the athletics Hall of Fame, minicollege classes, fireside a cappella, and a Sunday brunch, it was "a celebration of all things Skidmore," said Chuck Kaufman '82, who spearheaded the planning of the event. "It didn't matter whether you were an athlete or an art major, it was all about a feeling that you were coming home."
The chair of class council on the Alumni Association Board of Directors, Kaufman worked with fellow alumni board members, in collaboration with Skidmore's Office of Alumni Relations and College Events.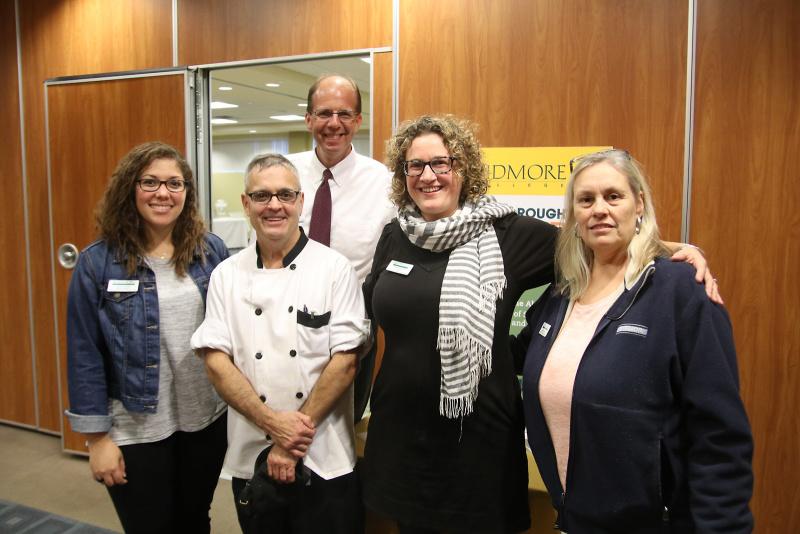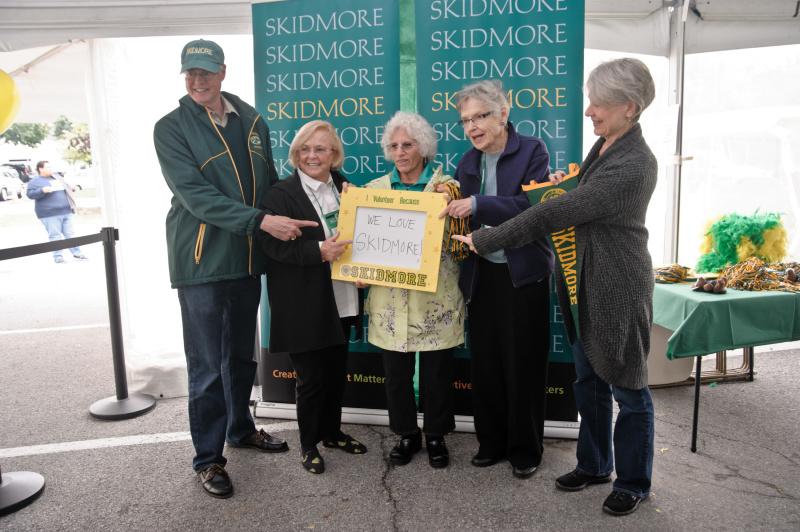 (All photos by Eric Jenks '08.)
Volunteers lead the Spriit Weekend rallying.
Highlights included mini-reunions for alumni athletes, who relived their glory days and joined students and parents to cheer on varsity teams, Volunteers in Partnership training and tips for getting the most out of the alumni volunteer experience, and minicollege seminars with faculty favorites like psychologist Sheldon Solomon and political scientist Ron Seyb. Intergenerational experiences delighted many attendees, such as Gay Mulligan '62, who sat next to her granddaughter Freddie Klaus '20 in Seyb's minicollege class. "I met Professor Seyb at an alumni event last year," says Mulligan, "and when I found out that Freddie was coming to Skidmore, I told her, 'You have to take one of his classes!'" Mulligan adds that the weekend was "a marvelous opportunity to see Skidmore in action. That's something you can only truly appreciate by being here, experiencing what today's students are learning and doing." Klaus found it "really cool being able to share this experience with my grandmother."
The 13th annual Friends of Skidmore Athletics benefit gala included Hall of Fame inductions for Nicholas Coppola '09 (lacrosse), Lauren Dinsdale '10 (volleyball and softball), Charlotte Riggs '94 (lacrosse), Roger Stein '85 (tennis), and Tracey M. Watson '86 (basketball). Also honored were Robert Spellman '86, an early golf standout and the first Thoroughbred in any sport to enter NCAA competition; former ice hockey and women's soccer coach Paul Dion; the 1995 national-champion equestrian team; and the 1999 baseball team, which transformed a struggling program into a conference winner.
Alumni and students closed out Saturday night by roasting marshmallows over a customized Thoroughbreds fire pit while the Dynamics serenaded s'more makers with a cappella favorites.
"It's so nice to welcome our alumni come back to campus more often than just once every five years at Reunion," says Mike Sposili, executive director of alumni relations and college events. "And who doesn't love autumn in Saratoga?" With grateful nod to the support of the alumni board, he says, "We plan to make Thoroughbred Spirit Weekend a new Skidmore tradition."