2016 Selected Art Faculty Exhibition
October 11, 2016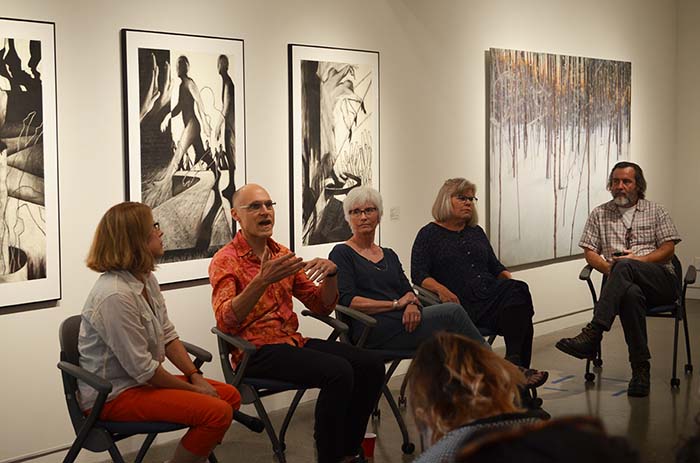 Members of the 2016 Selected Art Faculty Exhibition discuss their work.
The 2016 Selected Art Faculty Exhibition, now entering its last week, fills the Schick Art Gallery with evocative imagery and reflections on humans' connection to nature. Works in a variety of mediums are on view: sculpture made using a 3-D printer by John Cunningham, altered photographs by Deb Hall, figurative drawings and paintings by Deborah Morris, and dreamy, surreal photographs and videos by Robert and Shana ParkeHarrison.
Deb Hall's altered landscapes are inspired by the disparity between the natural world and our fast-paced technological culture. Hall, whose connection to nature formed during her childhood in the Pacific Northwest, says, "As we spend less time in face-to-face communications and physical experiences and more time communicating through memes, emoticons, and symbols, we appear to be at once communicating more and experiencing less."
Photographers Robert and Shana ParkeHarrison are also concerned with our relationship to the earth and to technology. The artists construct fantasies in the guise of environmental performances for the protagonists of their images, often creating elaborate props and sets as part of their practice.
The creative process itself powers Deborah Morris's drawings and paintings. Morris writes, "The figurative imagery in my work leads one to think of a narrative, but I seldom begin with any idea other than a formal structure. . . I compose and organize, creating a visual relatedness. This relatedness is of foremost importance to me."
John Cunningham's sculpture is concerned with the interaction of physical materials and forces; his works are often part aesthetic object and part engineering model. His recent series of spiderlike forms is inspired by ideas about movement and balance; they are made using a 3-D printer, an emerging technology that both intrigues and challenges him.

The Schick Gallery is open Monday–Thursday, 10 a.m.–6 p.m.; Friday, 10 a.m.–4 p.m.; and Saturday and Sunday, 12 noon–4 p.m.