Orchestra features student conductor
December 8, 2016
Taylor Fohrhaltz-Burbank '18, a double major in music and environmental science, will conduct the Skidmore College Orchestra during its fall concert this Saturday, Dec. 10, at 8 p.m. in the Arthur Zankel Music Center. Fohrhaltz-Burbank is co-principal cellist with the orchestra and is currently completing her advanced conducting studies with Professor Anthony Holland, founding music director and conductor of the orchestra.
Fohrhaltz-Burbank in practice
Holland explains why she was selected for this honor: "Taylor completed a first-year conducting course last spring and did outstanding work. She asked to do an independent study this term in more advanced conducting, which involved rehearsing parts of the orchestra. Soon after, I tested her in front of the full orchestra and saw that she was ready to conduct and rehearse one full piece for the next concert. This is a major step forward in her work as a young conductor."
The evening will also include the world premiere of Loris Chobanian's Variations on an Israeli Theme for Two Guitars and Orchestra. A national figure in the world of guitar music, Chobanian himself will conduct the performance, including guest soloists Bryan Reichert and Chris Ellicott. The soloists are graduates of the Baldwin-Wallace University Conservatory of Music in Cleveland, Ohio, where Chobanian was a longtime professor of guitar and composition, and will be making their New York debut in this world-premiere performance.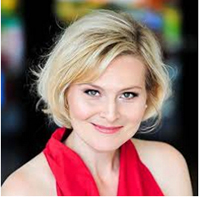 Alum and faculty member Stoner-Hawkins
Saturday's program will also feature a Skidmore alumna and artist-in-residence, soprano Sylvia Stoner-Hawkins '94. As a student, Stoner-Hawkins received Skidmore's prestigious Filene Music Scholarship and double-majored in theater and music. She earned a doctorate in musical arts, in voice performance, at the University of Kansas. After singing and teaching, she joined the Skidmore music faculty as artist-in-residence. She will sing Dvorak's "Songs my Mother Taught Me" and "Rusalka's Song to the Moon." It is believed that famed African American singer and composer Harry T. Burleigh, once active at Bethesda Church in Saratoga Springs, was highly influential in introducing Dvorak to African American spirituals, a new sound that Dvorak embraced in his famous Symphony from the New World. The two Dvorak songs will be followed by two movements of New World conducted by Holland.
Now in its 35th year, the Skidmore College Orchestra is a semiprofessional ensemble of college students, professionals and community members, all dedicated to bringing live orchestral music performances to Saratoga and the surrounding communities.
Tickets to the performance, available online or at the Zankel box office, are $8 for adults, $5 for seniors, and free for students and children.
The Skidmore College Orchestra, Anthony Holland conducting