Solidarity or singularity?
November 2, 2017
With virtues like "tolerance, civil rights and creativity, but with sins such as narcissism and a culture of fame," where is American society heading? Leading journalist and author David Brooks tackled that question, offering some cultural history and a call to action, during a campus visit last week.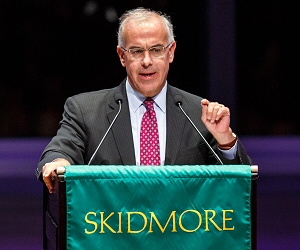 David Brooks
A New York Times op-ed columnist since 2003 and a regular on The PBS Newshour, NPR's All Things Considered and NBC's Meet the Press, Brooks has also served as senior editor at the Weekly Standard and contributing editor for the Atlantic and Newsweek. Among his books is The Road to Character, a number-one New York Times bestseller. He is on the faculty of Yale University and a member of the American Academy of Arts and Sciences. He had previously spoken at Skidmore in 2013, when he received an honorary doctorate and gave remarks at Commencement.

Brooks met with students in an English nonfiction course and then gave a public lecture at Zankel Music Center. Widely respected as a thoughtful and moderate conservative, he bridged politics and addressed broader changes in American society over time. To the post-World War II era, he ascribed a culture of authority, self-effacement and a "we're in it together" ethic. Brooks reported that "80% of Americans said they trusted the government to do the right thing." At the same time, he acknowledged the era's racism and sexism; there was, he quipped, too much conformity, repression and boring food.
"It's our commitments
that create our identities,
that give us a sense of
purpose and meaning."
The 1960s overthrow of those conventions, he continued, brought a more creative ethos of individual freedoms and civil rights, but also led to withdrawal from community and distrust of institutions. He said NFL quarterback Joe Namath, who became a superstar far beyond sports, personified the era's infatuation with fame and individualism. As that culture evolved across the U.S., Brooks said, "the median narcissism score has gone up 30% in the last 20 years, and now just 19% of millennials have trust" in governments or other institutions. As more citizens feel isolated and defensive, he said, "we live in a much lonelier country."

While students today confer a sense of autonomy, Brooks argued, they have no clear view of their own purpose or meaning. "They are material-rich but meaning-poor. We tell them that freedom is happiness and they can be themselves. But they don't know who they are" or how to develop themselves. "We're in a crisis of social solidarity." He added that the far-right movement "exploits the wounds in our society and picks on them every day," inflaming a politics of identity and fragmentation. For Brooks, the election of Donald Trump was "the wrong answer to the right question."

One right answer, Brooks offered, is "to think about commitments as a cure for social and personal ills. It's our commitments that create our identities, that give us a sense of purpose and meaning." To transform an overly individualistic culture into one of more tightly bonded community, he admitted, would entail a change in mindset, such as "falling in love and staying in love: 'I made a promise and I'm going to fulfill my promise.' It requires being more moralistic emotionally and cognitively."

Brooks's talk was the last of this year's President's Community Dialogue Series, capping the visits of race-relations psychologist Beverly Daniel Tatum and renowned singer-songwriter Paul Simon.