Russian documentarian-activist visits
February 6, 2018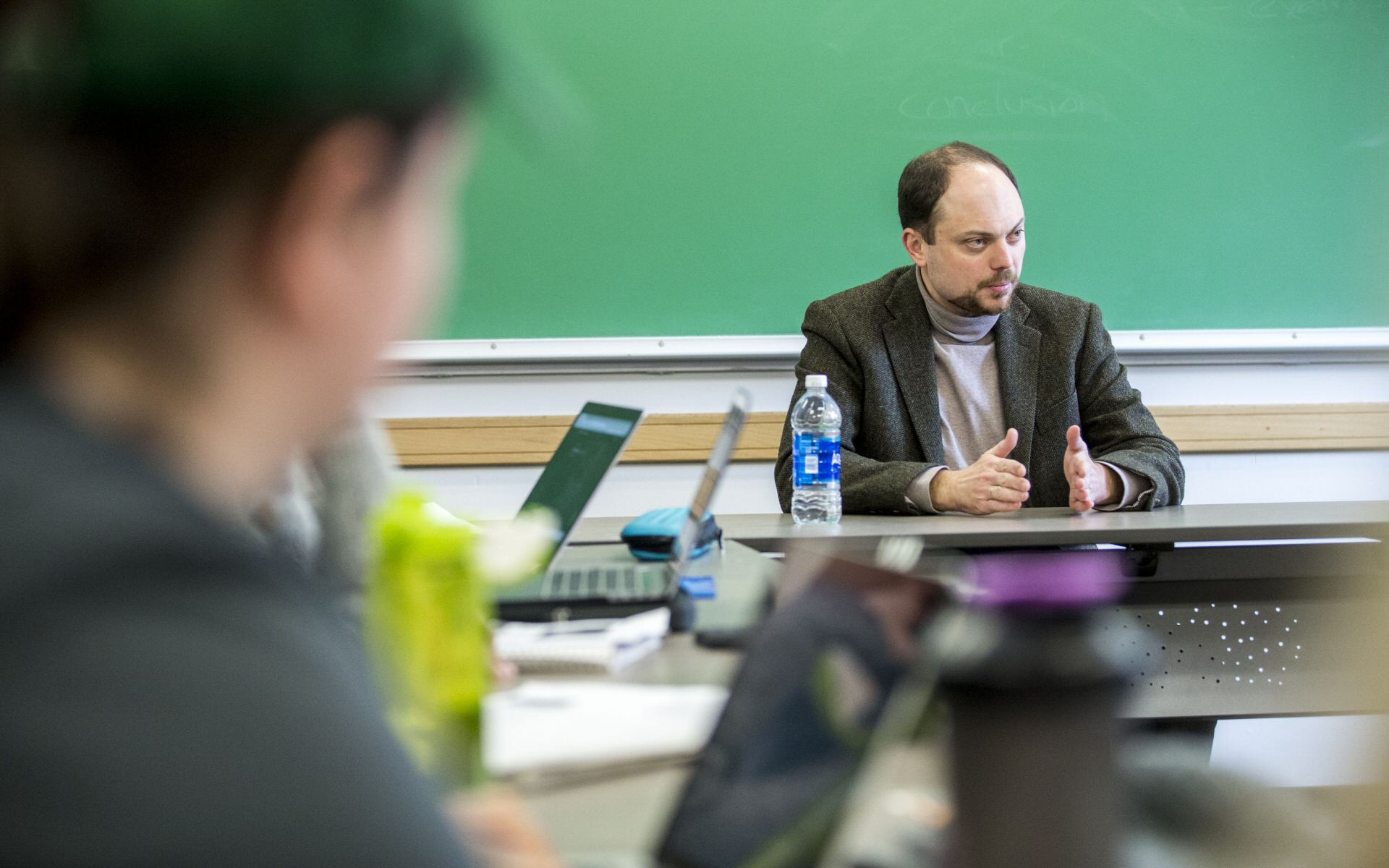 Skidmore on Jan. 31 hosted a screening of Vladimir Kara-Murza's film Nemtsov, the story of Russian opposition leader Boris Nemtsov, who was murdered in February of 2015 in front of the Kremlin. Afterward, the documentarian gave a talk about the film. The following day saw a panel discussion on the future of Russia with Kara-Murza and Jonathan Brent, a scholar of Russian literature and politics. Kate Graney, professor of political science, moderated.
Nemtsov, in Russian with English subtitles, chronicles the activist's political life as told by those who knew Nemtsov at various times: as a young scientist taking his first steps in politics, as a government official once considered Boris Yeltsin's heir apparent; and when he led Russia's democratic opposition to Vladimir Putin.

Kara-Murza focused on discussing Vladimir Putin's regime in Russia and the ways in which new types of protest movements have punctured the structure of the regime. He discussed how a strong force behind the effectiveness of this new protest movement was the power of young people in Russia.

He described how the younger generations in Russia who are now 17, 18 or 19 were born into a world where Putin has always been in power. Therefore, he said, one might think the younger generation in Russia would be brainwashed. However, he said with a smile, "They are not."
He described the power of this "younger generation increasingly saying 'Enough!' " and how they are "tired of seeing one person in power."
"It is fascinating to hear about the
level of power and action the
students and younger populations
in Russia have taken to defend what
is right and take a stand against the
horrific wrongdoings in their country."

—Hannah Fowler '18
Kara-Murza is vice chairman of Open Russia, a Russian pro-democracy movement, and chairman of the Boris Nemtsov Foundation for Freedom. A longtime colleague of Nemtsov, Kara-Murza is a former deputy leader of the People's Freedom Party and was a candidate for the Russian State Duma. He has testified on Russian affairs before parliaments in Europe and North America and played a key role in the passage of the Magnitsky Act, a 2012 U.S. law that imposed targeted sanctions on Russian human rights violators.

Kara-Murza is also author of several books and numerous articles on the Russian democracy movement and has worked as a journalist for Russian broadcast and print media. He also directed another documentary, They Chose Freedom, on the dissident movement in the USSR.

Twice, in 2015 and 2017, Kara-Murza was poisoned with an unknown substance and left in a coma; the murder attempts were widely viewed as politically motivated. He is a recipient of the Magnitsky Human Rights Award and the Sakharov Prize for Journalism as an Act of Conscience.

Jonathan Brent teaches history and literature at Bard College and is executive director of the YIVO Institute for Jewish Research in New York City, founder of the Annals of Communism series, and author on Soviet history.

Flagg Taylor, associate professor of political science, said he attended a conference with Kara-Murza and Brent at the Library of Congress late last year on the Bolshevik Revolution. " was struck by the profundity and depth of the remarks of Kara-Murza and Brent," he recalls. "My almost immediate hope after the conference was to find a way to bring both speakers to Skidmore! I was not aware of the film until I contacted Kara-Murza about coming to Skidmore to participate on a panel on the future of Russia."

"Once one understands the nature of Putin's regime, it's not a surprise that it tries to influence and corrupt the elections of Western countries," Taylor continued. "From Kara-Murza's perspective, however, the larger picture of U.S/Russia relations since the early 2000s is defined by continuity—each administration, from Bush to Obama to Trump, falling prey to a combination of naivete and wishful thinking."
The events were sponsored by the Periclean Honors Forum as part of its annual policy roundtable series.