Six signs of spring at Skidmore
April 1, 2019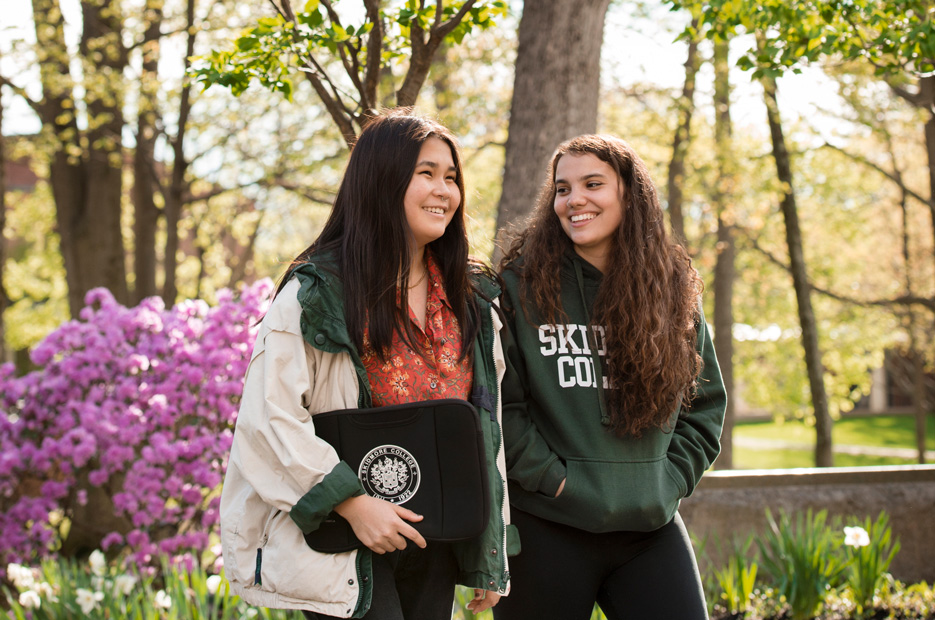 Goodbye blizzards, "Brrs" and blankets.
Hello breezes, birds and banquets.
Goodbye storms, snow and soups.
Hello sun showers, slickers and ice cream scoops.
Goodbye, winter.
Hello, Skidmore spring!
Six signs of spring
1. Ice cream IS Served
Nothing says winter is over like that first sunny day and a heaping scoop of ice cream. While we're lucky to have our favorite flavors all year long in the Murray-Aikins Dining Hall, there are a few notable events that announce the change of season.
Ben & Jerry's Free Cone Day
Each April, students flock to downtown Saratoga Springs for Ben & Jerry's annual Free Cone Day. If you time your visit just right, you may be one of the lucky few served a special cone by a celebrity guest scooper, our very own President Philip A. Glotzbach.
Dairy Haus
The Dairy Haus, proclaimed as "the best homemade ice cream in Saratoga Springs," is a local landmark only a short ride from campus. Closed for the winter, its springtime opening is often a surprise date that's a secret until the very first scoop is served. You'll know spring is here when you see Skidmore students making the pilgrimage for their double scoops of Dairy Haus desserts.
2. Everyone Is riding a BIKEMORE Bike
From grabbing those first ice cream cones of the season to running errands, traveling to downtown internships or taking a leisurely ride— as soon as the sun comes out, BikeMore bikes are all around town.
The popular bike-share program is sponsored by the Sustainability Office and is free and open to anyone with a Skidmore ID.
3. Sunny Days Are Spent OutDoors
With 1,000 acres of beautiful campus, there's always plenty of natural landscape to enjoy at Skidmore. But when the temperature hits 60 degrees, suddenly it seems as if all 2,500 students have ended their hibernation to soak up their share of Vitamin D.
Whether it's a quiet study spot by Haupt Pond, live music on the green or a hike in the North Woods, almost everyone finds their way outside.
4. People are Loving Mother Earth
As nature wakes up from its long winter nap, so does our appreciation for our planet. One of the ways Skidmore students kick off the spring season is by giving back and digging in to celebrate Earth Day.
While Earth Day is more like "earth week," at Skidmore, with events happening all over and all week, one of the favorites is the Earth Day Fair. A perfect mix of sustainability awareness and lighthearted community bonding, the fair invites everyone outside to enjoy music, games, food and more.
5. There are presentations and performances galore
You know spring is here when the campus life calendar is bursting with presentations, performances and more. As the semester winds down, the events ramp up and there's no time of year quite so full of creative expression and curriculum.
6. Campuswide celebrations are just around the corner
As preparations begin for some of the biggest celebrations of the year, you know the final signs of spring are here.
Let loose in whimsical style at Fun Day, Skidmore's annual all-out-music-fest-meets-last-hoorah-of-the-semester. Then, come together as a community to celebrate the accomplishments of our graduating seniors at perhaps the most important celebration of all, Commencement.