Families of Class of 2019 pave the way
May 18, 2019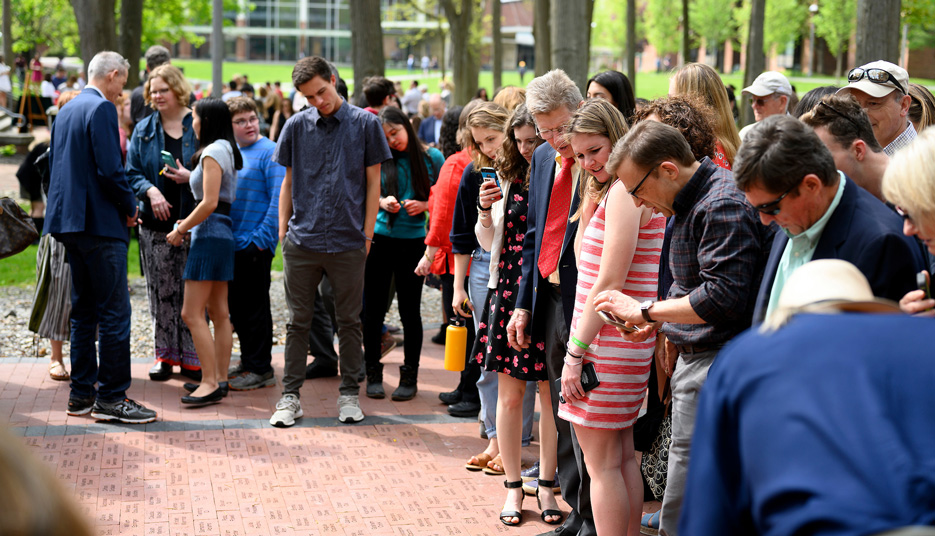 The families of Skidmore's Class of 2019 have donated $555,531 toward the Class of 2019 Parents Fund.
Four hundred forty-one families made a gift in the annual fundraising initiative, which brings together parents, grandparents and other family members to honor and celebrate their graduating seniors. Families who donate can have the name of their graduating senior inscribed on a brick on the patio adjacent to Case Center in the heart of campus.
The pathway serves as a tribute to students' successes, commemorates their experiences at Skidmore and inspires others to follow in their footsteps.
Speaking at a crowded outdoor ceremony attended by graduates, their families, alumni and members of the broader Skidmore community, College President Philip A. Glotzbach called the Parents Fund "a wonderful tribute to your sons and daughters."
"Skidmore has an enduring tradition of receiving amazing support from parents," he said. "Your generosity is having an immediate effect on financial aid and health and wellness programs."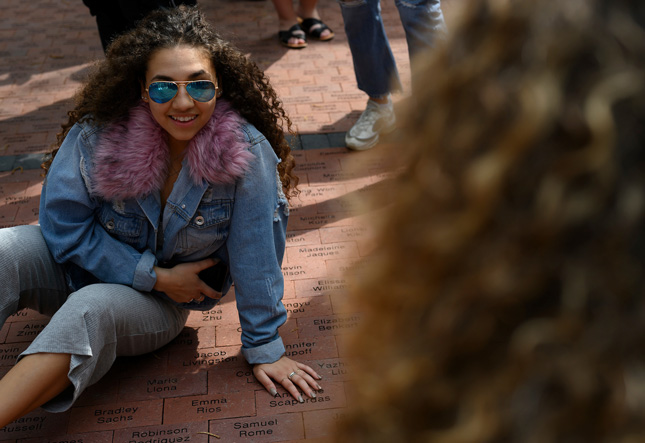 This year, the Class of 2019 Leadership Committee elected for funds to support financial aid and health and wellness causes on campus. The health and wellness causes include emergency funds for transportation, copays for students requiring off-campus medical attention, and equipment and support for Skidmore's new Weeks of Welcome Program — part of New Student Orientation that focuses on student physical and mental health.
This year's drive was chaired by Valerie and Jeff Paley, parents of Elianne '19. The gift total announcement was made at the annual Brick Dedication Ceremony on Case Green on Friday, the day before Commencement.
"The Brick Dedication Ceremony is a wonderful celebration for the senior class, and it was exciting to watch the students search the walkway to find their bricks. We were honored to chair this program and are so proud of our daughter and all she accomplished at Skidmore," Valerie Paley said. "We are also pleased that, thanks to the generosity of anonymous parents, there is a brick for every graduate in the Class of 2019."
"Today we dedicate these bricks and this walkway as a permanent expression of love and recognition for our children and in appreciation of Skidmore and its impact on their lives," Jeff Paley said. "The bricks symbolize the pathway that our sons and daughters have paved for themselves here at Skidmore. They are an enduring reminder of the Class of 2019 and the connection that will always exist between Skidmore and each of the 2019 graduates."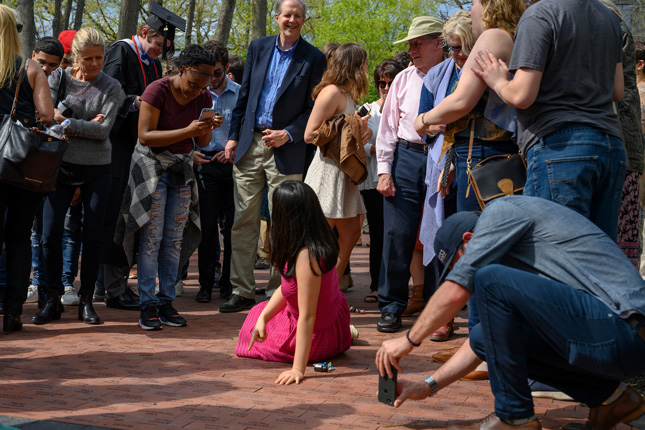 Two bricks also celebrate the lives of Michael Hedges and Will Golden, members of the Class of 2019, who died in their first year at Skidmore. Their families each received a Skidmore degree in memoriam.
The Parents Fund has had a significant impact at Skidmore since its inception in 2001, when Skidmore parent volunteers launched the project. It was designed to recognize and celebrate the achievements of their sons or daughters, to provide financial support for students and the campus environment and to serve as a model for students by reinforcing the importance of philanthropy.
In addition to the Paleys, the leadership committee included Greg Connors and Allison Sagraves, parents of Caroline '19 and Greg '21; Janey Gubow '81 and Nikifor Budsey, parents of Julia '19 and Maria '22; Alexander and Carrie Hyman, parents of Gabriela '19; Peter and Maureen Morgan, parents of Spencer '15 and Corey '19; Rosendo and Cheryl Parra, parents of Lauren '13 and Allison '19; and Ted and Cynthia Sprinkle, parents of Caitlyn '19.
In a separate campaign, 95.1% of seniors made a gift to this year's Senior Gift Campaign, setting a new participation record and edging out the impressive 94.9% participation rate set by the Class of 2018. Those gifts will support scholarships, diversity, sustainability, student health initiatives, athletics and other programs at Skidmore.