Liberal arts education "exactly what the world needs"
September 11, 2019
Skidmore College President Philip A. Glotzbach joined representatives of other leading institutions of higher education and national media outlets to discuss issues facing U.S. colleges and universities and affirmed the continuing importance of a liberal arts education in today's world.
Glotzbach spoke with presidents of 11 other colleges and universities at the National Press Club in Washington on a range of topics facing institutions of higher education in the United States, including questions associated with inclusion, diversity, cost and international admissions.
"I firmly believe, and I suspect every president in this room believes, number one, that in this crazy changing world, beset by wicked problems, the kinds of things we provide at the heart of liberal education are exactly what the world needs," Glotzbach said at the Sept. 5 event organized by Bucknell University. "We're in the leadership position to talk about the kinds of things that students need to learn to talk about: what it means to be informed, responsible citizens."
President Glotzbach with leaders of 11 other leading colleges and universities (Image courtesy Bucknell University)
Recent changes in U.S. immigration policy and difficulties experienced by some international students securing visas received significant attention from the college presidents.
Glotzbach noted that Skidmore, which received record applications this year, had not witnessed a decline in international admissions and was working hard to ensure that international students know that they are welcome at Skidmore.
In addition to President Glotzbach, leaders from Bates College, Bowdoin College, Bucknell University, Franklin & Marshall College, Kenyon College, Lehigh University, Macalester College, Spelman College, Swarthmore College, Union College and Vassar College participated in the conversation.
The Associated Press, The Atlantic, The Chronicle of Higher Education, Diverse: Issues In Higher Education, The Hechinger Report, Inside Higher Ed, Kiplinger's Personal Finance, Money, The New York Times, PBS NewsHour, POLITICO, The Philadelphia Inquirer, U.S. News & World Report, University Business, Wall Street Journal and The Washington Post were among media outlets that attended.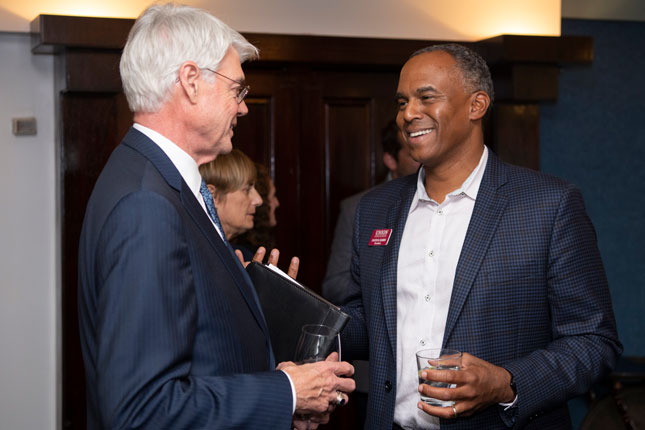 President Glotzbach with Union College President David Harris. (Image courtesy Bucknell University)