Student consultants and scientists participate in local trails project forum
October 4, 2019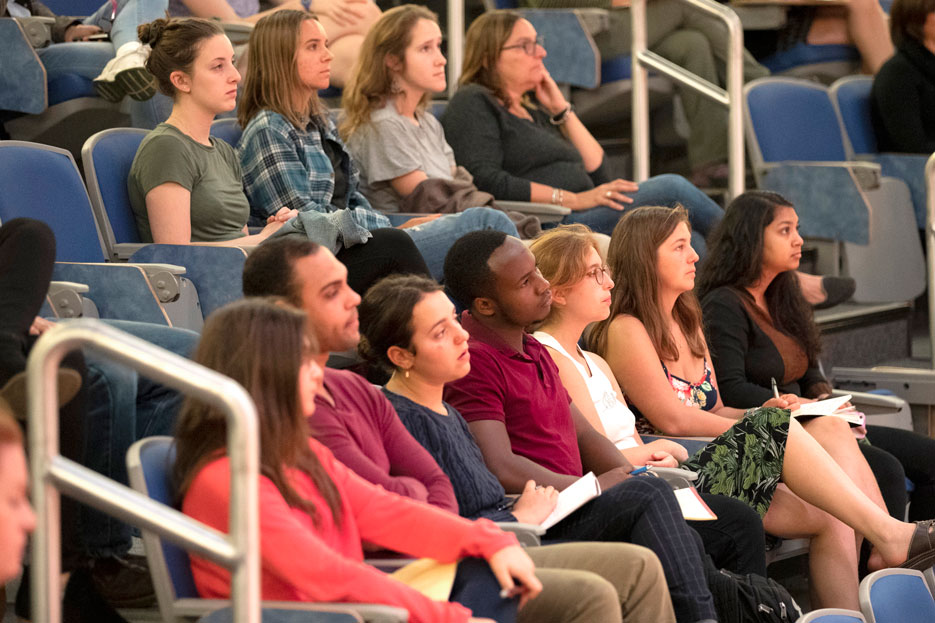 More than 70 students, faculty members and community stakeholders attended a recent forum on investing in recreation and trails projects as they looked to apply a national expert's advice to a local initiative.
The Saratoga Trails and Finance Forum, held Sept. 27 in Skidmore's Filene Auditorium, took a look at the Palmertown Ridge project, an effort to create a 40-mile trail to connect over 10,000 acres of open space between Saratoga Springs and Moreau Lake State Park, including Skidmore's North Woods.
A map of the 40-mile Palmertown Ridge trail project is shown during the Saratoga Trails and Finance Forum held in Filene Auditorium.
Students in the Skidmore-Saratoga Consulting Partnership, which is working with local for-profit and nonprofit enterprises on the Palmertown Ridge project this semester, attended the forum alongside seniors in Skidmore's Environmental Studies and Sciences Program who are involved in the effort for their Capstone project.
The students joined representatives of community organizations, including Sustainable Saratoga, the Open Space Institute, Saratoga PLAN (Preserving Land and Nature) and the Saratoga County Chamber of Commerce.
"It is a great example of the sort of experiential learning and civic engagement that are at the hallmark of a Skidmore education," said Robert Turner, associate professor of political science.
Seth Brown, director of the consulting firm Quantified Ventures, which specializes in financing green infrastructure projects, spoke about how impact investing can be used to fund recreation and trails projects. Impact investing is a form of performance-based financing in which repayment is based on how successful a project is in achieving environmental, social and economic outcomes for local communities.
"While recreational resources bring tourism revenue, their greatest value is enhancing the quality of life for residents in the local area," said Brown.