Inspiring the next generation of musicians
January 31, 2020
When Evan Mack's 10-year-old son came home from band practice at his Ticonderoga, New York, school and told him that some of his classmates were playing plastic instruments and instruments held together by tape, the senior teaching professor of music at Skidmore College was stunned. He also learned that many students could not afford to rent musical instruments.
Mack, an accomplished composer and pianist, wanted to help. He teamed up with Michelle Hubbs, director of the Office of Community Service, as well as Skidmore students Madison Pappas '22 and Neil Mellstrom '20 to create Be Instrumental, a musical instrument drive aimed at giving the gift of music to children in Ticonderoga schools.
"Learning to play on a quality, working instrument is so important," said Mack. "When you give children a functional instrument, what you're really giving them is the opportunity to explore what they're capable of and to fall in love with music."
The organizers spread the word about the drive, which began Jan. 22 and concludes Saturday, Feb. 8. They asked Skidmore students to bring gently used instruments back to campus with them after winter break.
"So many of our students have played an instrument at one point, in high school or even in college, but no longer use that instrument," said Mack. "These same instruments can now inspire a new generation of students."
On Saturday, Jan. 25, Pappas and Mellstrom held the first of three community drop-offs at Zankel Music Center and later that evening hosted "Band-Aid," a benefit concert at Lively Lucy's in Falstaff's Pavilion on campus. The price of admission was an instrument or a monetary donation of any amount. Both events were a success.
Students perform at Band-Aid, a concert to raise donations for Skidmore's Be Instrumental drive, on Jan. 25 at Lively Lucy's in Falstaff's Pavilion.
"It's been amazing to see campus and the local community support this effort," said Pappas, who is currently taking piano lessons with Mack. "You never know who the next great musician will be. These instruments might enable them to find their passion, or just enjoy the music."
Mellstrom, a music major and aspiring film composer, discovered his own love of music on a trumpet, which was handed down to him from his father. "I'm grateful for the opportunity I had, and I wanted others to have the same," he said.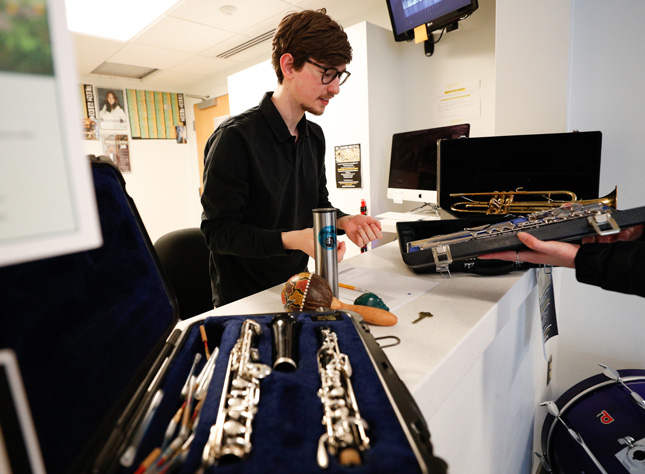 Neil Mellstrom '20 receives instruments through the Be Instrumental drive at Zankel Music Center.
Mike Iturrino, who has worked as a Ticonderoga music teacher for 11 years, has witnessed the financial challenges that often stand in the way of a music education.
"The reality is that many families are choosing between renting an instrument and putting food on the table," he said. "That's where the district comes in. We want to provide school instruments. The problem is, our instruments have aged. We have a baritone sax from 1929 that is literally being held together with paper clips and duct tape."
He is excited about the impact the donations will have on students in the band. "Whether the instrument is shiny or not, it's brand new in their eyes, and that's a gift," Iturrino said.
Several local businesses and organizations in the Saratoga region are helping to spread the word and encourage participation. Esperanto, Smashburger and Kru Coffee are offering incentives to those who support the drive. Saratoga Performing Arts Center (SPAC) will provide a special classical music package to whoever donates the most instruments. Cole's Woodwind Shop and Saratoga Guitar & Music Center have volunteered to clean and prepare donated instruments before they are distributed to schools.
Ticonderoga schools will be the primary beneficiary of the Be Instrumental drive, but all surplus instruments will be distributed to other North Country schools.
Instruments and monetary donations will be accepted from 9 a.m. to 1 p.m. Saturday, Feb. 8, at the Arthur Zankel Music Center box office at Skidmore College. The drive will accept gently used brass, woodwind and percussion band instruments. For more information, contact Evan Mack.