Shirt designed in Skidmore class celebrates jazz fest
June 26, 2020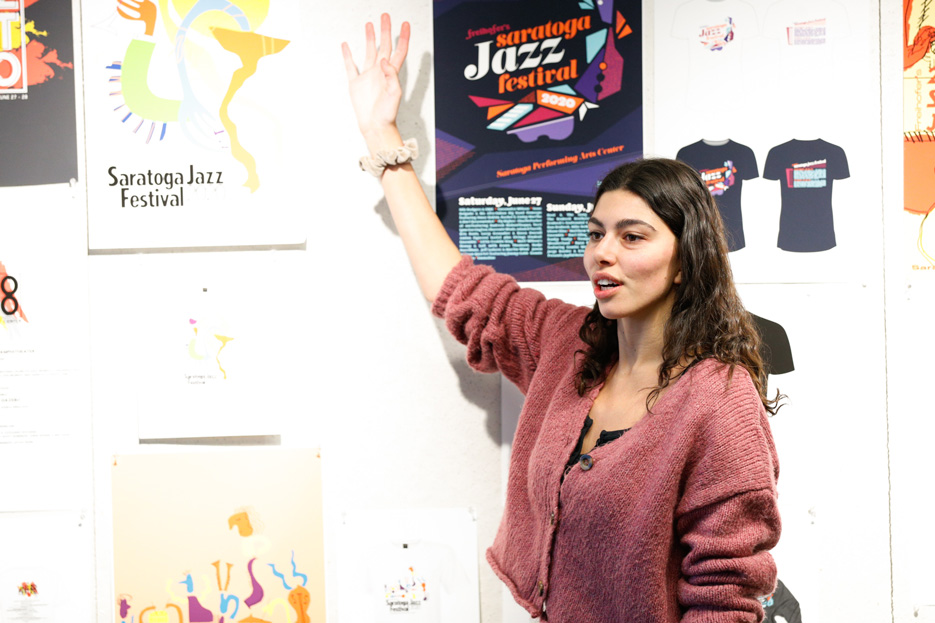 A new collaboration between Skidmore College and Saratoga Performing Arts Center allowed students in Professor Deb Hall's spring semester Communication and Design III class to gain valuable experience and build their portfolios while creating a merchandise design for the iconic Freihofer's Saratoga Jazz Festival.
Though this year's in-person Jazz Festival at SPAC was canceled due to the COVID-19 pandemic, the commemorative T-shirt designed by Isa Hage '20 was sold in conjunction with the free, three-night virtual concert series held in its place, with all proceeds going to the Equal Justice Initiative.
Freihofer's Jazz Fest Stay Home Sessions were held Friday through Sunday, June 26-28, in partnership with Saratoga Springs' historic Caffè Lena, and featured national artists Jon Batiste, a former Skidmore Jazz Institute student, Pedrito Martinez, Béla Fleck and Abigail Washburn. The Skidmore Jazz Institute Alumni Trio was among the acclaimed local musicians to take part, opening for Fleck and Washburn on Saturday, June 27.
Separately, the Skidmore Jazz Institute Faculty Trio, featuring Grammy Award-winning musicians Todd Coolman, artistic director of the Jazz Institute, Renee Rosnes and Dennis Mackrel, will perform a free concert at 8 p.m. Thursday, July 2, also via Caffe Lena's YouTube channel. Both Jazz Institute performances are part of the Stewart's Signature Series, made possible through a grant from the Dake Family and Stewart's Shops.
Skidmore Jazz Institute Alumni Trio
Absolutely Live Entertainment President Danny Melnick, artistic director and co-producer of the festival, pitched the design contest to Hall's students early in the spring semester, asking them to highlight what makes Saratoga Jazz Fest unique, from its location and venue to the wide variety of jazz musicians it attracts. He, SPAC General Manager Leslie Collman-Smith and Nat Crane, SPAC's director of graphic design and creative services, chose the winning design. Hage edged out fellow finalists Jennifer Monderer '20 and Nicky Zhong '21.
"I wanted to represent the festival through the way people, music and food come together at the event," said Hage. "I didn't want to think about jazz music too specifically but rather the experience of listening to it at this festival."
The Jazz Fest and SPAC teams said they were "blown away" by the students' submissions and overwhelmed at the thought of having to choose only one from the very robust selection. "It was really hard to decide because we had so many amazing submissions and each one of them spoke to us very differently," said Collman-Smith. "There are different aspects of each design that are so unique and impressive."
Nearly 1,000 T-shirts were sold at last year's Saratoga Jazz Festival. Hage said she is excited that her work could receive so much exposure.
Hage, who graduated in May, hopes to become an art director at a design firm. "I really enjoy the collaborative process of creating and design as well as thinking about the big picture and smaller details within a project," she said.
This design project further strengthens the synergy between Skidmore and SPAC, which has hosted Saratoga Jazz Festival for over 40 years.
Last year, the Skidmore Shop also helped to sell Jazz Fest merchandise at the festival's retail booth.