I get the chance to travel to Africa for an internship, but how do I pay for it?
October 15, 2018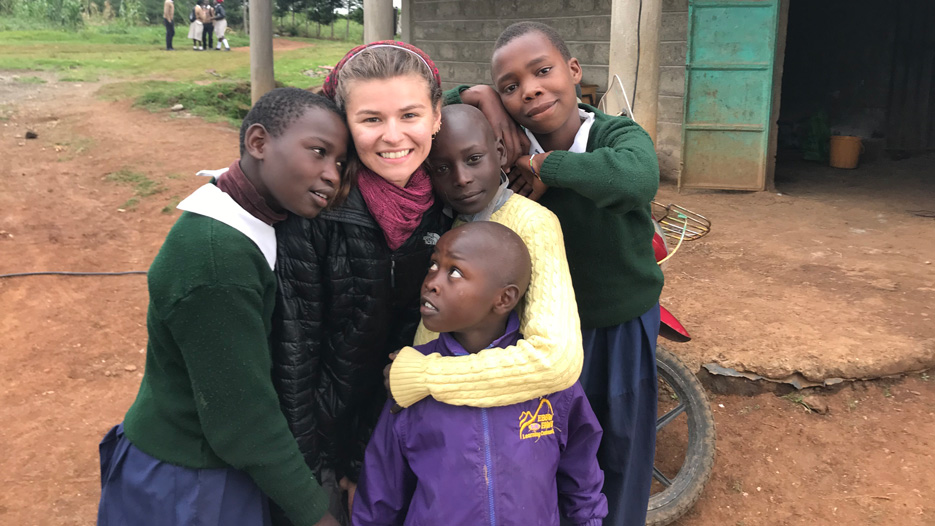 Early in the spring of my junior year, I met with a career counselor at Skidmore's Career Development Center (CDC). I was hoping to find an internship opportunity where I could travel and volunteer. I knew this was a tall order, but I had hope.
Much to my surprise, my career counselor had a network of opportunities and enthusiastically connected me with a resident of Saratoga Springs who runs a children's home in Nyahururu, Kenya, through HEAL Raising Our World Foundation, Inc.
I have always wanted to travel to Africa and I've had several volunteer experiences working with orphans, so this opportunity seemed like the perfect fit.
Thanks to the CDC, HEAL came to Skidmore for on-campus interviews. The role they had in mind was a perfect fit for me — grant funding research and traveling to Kenya to support the effort in real time. It was exactly what I dreamed of.
After a successful interview, I was offered the internship.
However … there was a catch. Traveling to Kenya would not be cheap. I couldn't afford it.
But then my career counselor mentioned a number of funding opportunities available to students on campus, including the Career Development Center's Summer Experience Fund Awards and Student Government Association's (SGA) Responsible Citizenship Award.
These awards are designed to help students in my exact situation — a life-changing opportunity in hand, but a financial constraint holding you back.
Holding my breath, I submitted my internship for consideration. A few weeks later, I was the grateful recipient of an SGA Award.
My specific award is for students pursuing unpaid internship opportunities that expand their understanding of community involvement, service, awareness and civic engagement.
More to come on my experiences in Kenya. But, for now, I'm just entirely grateful for Skidmore's CDC and SGA. Not only for the connections made, but the pathways paved for me to pursue a life-changing opportunity without putting the financial burden on my family.