The universal language of mixes, mashups and melodies
October 17, 2019
The first time I performed as a DJ on campus was nerve-wracking, but exciting.
For as long as I can remember, music has been a major part of my life. There's something about the goosebumps and chills that come with a good song that can carry you through so many ups and downs.
But, in that moment, as I took the stage at Falstaff's, my brain was racing with questions.
"Will they like my mix?" "Can I pull this off?" "How can I get all of these people with different backgrounds to vibe together and have a good time?"
There was only one way to find out: I hit play.
To my relief and surprise, everyone was feeling it. But that wasn't the best part. What truly took my breath away was the people. Friends and strangers, people from New York, New England and even South Africa were all having a great time together.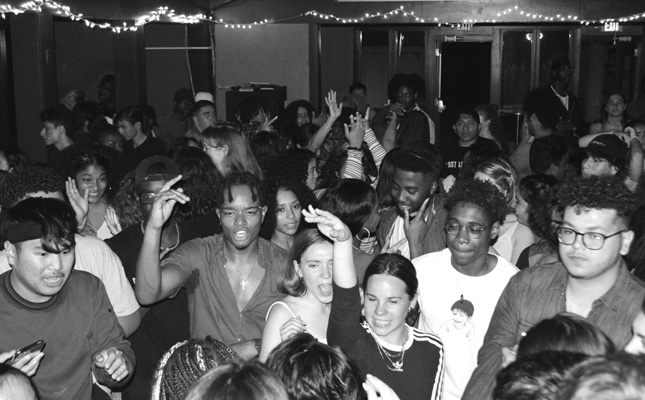 My view of all kinds of Skidmore students dancing together during one of my sets. Photo by Michael Gesse '22.
In that moment I realized something: Music is a universal language.
It's versatile and can adapt to any situation. And whether it's a favorite song to get pumped for the gym, a background score to study to, or a celebratory track for a completed assignment, everyone has a unique playlist.
To this day, my favorite part about DJing is pulling tracks from others' playlists.
Like our own identities, sometimes we need to mix, mash or even clash to create synergy across a variety of genres … and people.
My Life as a DJ at Skidmore has been an experience in bringing some of the most unlikely groups of people together and finding a way to create synergy across a variety of genres. When done well, it creates and facilitates a state of euphoria that everyone can take part in.
If you take anything away from this musical analogy, I hope it's this:
Everyone's college journey will be to the tune of a different playlist and, when they all come together, the best memories are made.
What's on your playlist?
It wouldn't be a story about playlists without some music. Here's a window into my Life at Skidmore through one of my recent mixes.