ENSEMBLE ACJW FEBRUARY 2013 PROGRAM
Featured Guest Composer: Missy Mazzoli
Friday, February 15, 2013
7 p.m. Pre-performance Discussion
8 p.m. Performance, Helen Filene Ladd Recital Hall, Arthur Zankel Music Center
CONCERT PROGRAM
MISSY MAZZOLI, Set That On Fire (World Premiere, commissioned by Carnegie Hall)
FRANCIS POULENC, Sextet for Piano and Winds

JOHANNES BRAHMS, Trio in E-flat Major for Violin, Horn and Piano, Op. 40
Presented by the Department of Music and the Office of Special Programs
Residency made possible by generous support from Anna-Maria and Stephen Kellen Foundation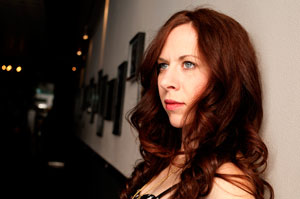 A fast-rising composer on the contemporary music scene, Missy Mazzoli's talent draws audiences equally into concert halls and rock clubs. Her unique music reflects a trend among composers of her generation who combine styles, writing music for the omnivorous audiences of the 21st century. She inhabits a gorgeous and mysterious sound-world that melds indie-rock sensibilities with formal training from Louis Andriessen, Martijn Padding, Richard Ayers and others. Practically speaking, she amasses music in layers not normally found together but in ways that create matchless vertical harmonies.
Recently deemed "one of the more consistently inventive, surprising composers now working in New York" by the New York Times and "Brooklyn's post-millennial Mozart" by Time Out New York, her music has been performed all over the world by the Kronos Quartet, eighth blackbird, the American Composers Orchestra, New York City Opera, the Minnesota Orchestra, the South Carolina Philharmonic, NOW Ensemble and many others.

Upcoming projects include a new orchestral work for the Detroit Symphony, another quartet for Kronos and a piece for Ensemble ACJW. She was recently appointed composer-in-residence for the Opera Company of Philadelphia. In this position she will have the opportunity to follow a personalized, three-year development track focused on the advancement of her career as an operatic composer.

In addition to the critically acclaimed premiere of her opera Song from the Uproar during the 2011–12 season, Mazzoli was a composer-educator partner for the Albany Symphony. There she heard the premieres of an expanded version of her orchestral work Violent, Violent Sea as well as world premiere of Holy Roller, which Albany Symphony commissioned.

Her music has been featured on numerous festivals including the 2007 and 2009 Bang on a Can New Music Marathon, the Cabrillo Festival (Santa Cruz), the Gaudeamus New Music Festival (Amsterdam), the Ecstatic Music Festival (New York) and the ZOOM Young Composers series at New York's Merkin Concert Hall.

She is the recipient of four ASCAP Young Composer Awards (2007 through 2010), a Fulbright Grant to the Netherlands (2002–04) and grants from the Jerome Foundation, American Music Center and the Barlow Endowment. In 2006 Mazzoli taught composition in the Music Department of Yale University, and from 2007 to 2010 was executive eirector of the MATA Festival in New York City, an organization dedicated to promoting the work of young composers.

Mazzoli is an active pianist and often performs with Victoire, an "all-star, all-female quintet" (Time Out New York) she founded in 2008 dedicated exclusively to her own compositions. Their debut EP was named one of 2009's 10 best classical albums by Time Out New York. Their debut full-length CD, Cathedral City, featuring eight of Mazzoli's new works, was released on New Amsterdam Records in September 2010 and received positive reviews from the classical and indie rock communities alike. Mazzoli attended the Yale School of Music (M.M. 2006), the Royal Conservatory of the Hague (postgraduate studies 2002–04) and Boston University (B.M. 2002). Her principal teachers were Louis Andriessen, Martijn Padding, Richard Ayres, David Lang, Martin Bresnick, Aaron Jay Kernis, Charles Fussell, Richard Cornell, Martin Amlin and John Harbison.

Missy Mazzoli's music is published by G. Schirmer, Inc.