ENSEMBLE ACJW OCTOBER 2011 PROGRAM
Featured Guest Composer: RYAN GALLAGHER
Friday, October 21, 2011
7 p.m. Pre-performance Discussion Moderated by Prof. Benjamin Givan

8 p.m. Performance at the Helen Filene Ladd Recital Hall, Arthur Zankel Music Center
CONCERT PROGRAM
RYAN GALLAGHER. New Work
LOEFFLER, Two Rhapsodies for Oboe, Viola, and Piano
MOZART, Viola Quintet in G Minor, K. 51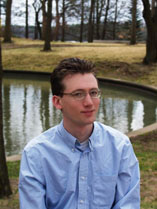 RYAN GALLAGHER is in his fourth and final year of graduate studies at Cornell University as of 2011, where his teachers include Steven Stucky, Kevin Ernste and Roberto Sierra. He received his bachelor of music degree in 2007 from the Juilliard School, where he studied with Christopher Rouse. A native of Wooster, Ohio, he studied composition with his father, Jack Gallagher of the College of Wooster during high school. He has also studied with Samuel Adler and Stephen Jaffe.
Awards include a 2009 Charles Ives scholarship from the American Academy of Arts and Letters, a First Music commission from the New York Youth Symphony in 2008, five ASCAP Foundation Morton Gould Young Composers Awards (2003, 2005, 2006, 2007, 2011), winner of the 2007 Arthur Friedman Prize for outstanding orchestral composition at Juilliard, winner of the 2006 New York Federation of Music Club's Brian Israel Prize and winner of the 2003 Natalie and Murray S. Katz Young Composers Competition.

Performances of his music include those by the Cleveland Chamber Symphony, the Juilliard Orchestra, eighth blackbird, New York Youth Symphony, New Juilliard Ensemble, Society for New Music, Metropolis Ensemble and Collage New Music Ensemble. He has attended multiple summer music festivals including the Aspen Music School, Freie Universität Berlin International Summer Program, Bowdoin International Music Festival, Norfolk Music Festival, Boston University Tanglewood Institute, and the Composers Conference at Wellesley College.

His recent compositional interests have led him to write pieces mixing standard ensembles with non-classical instruments, including a work for solo drum set and wind ensemble performed by the Cornell University Wind Ensemble with Derek Roddy as soloist, as well as a concerto for electric guitar, bass, synthesizer and drum set for the Contemporary Youth Orchestra with Electric Kompany as concertante soloists. In April 2010 his orchestral work Grindhouse was publicly read by the Nashville Symphony Orchestra, and the work will be premiered by the American Composers Orchestra in October 2011. Additionally, he has been commissioned by Ensemble ACJW to write a new chamber work to be performed at Carnegie Hall in December 2011.