Upcoming Events
MDOCS hosts a variety of public events throughout each academic semester. These events are all free and open to the Skidmore community as well as non-Skidmore community members.
The Annual Golden Acorn Awards
Wednesday, May 4 - DOCLab (Lib 113)
2-6pm: Pop-up Show open for viewing
*Reception will be held during viewing hours with light food and drink available
Come and see some of the incredible student-created documentary work done in Doc Studies courses and across campus. For one afternoon only, there will be a pop-up multimedia show of non-fiction video, audio, photography, and more. Open viewing hours from 2-6pm - stop by any time, see you there!
*Submissions for non-DS coursework due Thu, April 28th @ midnight
---
Past Events
---
This series is co-sponsored by the Department of Anthropology and the Black Studies Program. This series is made possible in part by The Andrew W. Mellon Foundation
Tuesday, March 22 at 7PM via Zoom: Virtual artist talk with JEREMY DENNIS, a contemporary fine art photographer and a tribal member of the Shinnecock Indian Nation in Southampton, NY. He will discuss Indigenous history throughout Long Island and the great regions as part of his project On This Site, which aims to preserve sacred Native American sites spanning 10,000 years to the present, throughout Long Island. (This event will be held on Zoom - Register here.)​
Thursday, March 31 at 7PM via Zoom: Screening of KEEPERS OF THE GAME, a film about a women's lacrosse team from Akwesasne, hoping to be the first Native women's team to take the championship title away from their rivals Massena High. The film will be available for individual screening in the week surrounding the panel discussion. On March 31st, we will host a virtual panel discussion with Wa'kerakats:te Louise "MommaBear" Herne (Condoled Bear Clan Matron of the Mohawk Nation), Mimi Lazore (Lacrosse Player featured in the film), and Director Judd Ehrlich. (This event will be held on Zoom - Register here.)​ Co-sponsored by MLK Saratoga.
Thursday, April 7 at 7PM - Tang Museum, Somers Rm:
Lecture with JESSE BOWMAN BRUCHAC, a Nulhegan Abenaki Citizen. He is a traditional storyteller, musician, and Abenaki language instructor. He works as co-director of his family run education center Ndakinna and is the Director of the School of Abenaki at Middlebury Language Schools. Jesse will offer a presentation shaped around stories and music and drawing on his thirty years of language reclamation work in relation to both traditional culture and modern media. Followed by a Q&A session. (This event will be in-person. Proof of vaccination is required for entry.
Jesse Bowman Bruchac's campus visit is part of
In It 6,
a series of DEI events hosted by the Office of Strategic Planning and Institutional Diversity, which takes place from Monday, April 4 through Friday, April 8, 2022. Please visit the
In It 6
website for more details on all of the related events.
Wednesday, April 20 at 7PM - Skidmore College, Davis Aud: Artist talk with KAHSTOSERAKWATHE PAULETTE MOORE, an independent filmmaker, lecturer, artist and educator. Moore is Kanien'kehàka (Mohawk) and an enrolled member of Six Nations of the Grand River territory where she is based. Moore's work focuses on restoring spiritual, physical and economic balance at the place where Indigenous ways of being meet our modern experience. She will share the work of her collective The Aunties Dandelion, a media arts organization and a transformative space informed by traditional Onkwehon:we (original peoples') teachings. (This event will be in-person. Proof of vaccination is required for entry - Register here)
---
On February 23rd at 7pm in Gannett Auditorium, MDOCS is excited to host a screening of Disclosure . Following the screening, we will have a panel discussion with the film's director and Skidmore Alumni Sam Feder, an MDOCS representative, Skidmore student Luna Peralta, and a local trans rights community organizer.
DISCLOSURE is an unprecedented, eye-opening look at transgender depictions in film and television, revealing how Hollywood simultaneously reflects and manufactures our deepest anxieties about gender. Leading trans thinkers and creatives, including Laverne Cox, Lilly Wachowski, Yance Ford, Mj Rodriguez, Jamie Clayton, and Chaz Bono, share their reactions and resistance to some of Hollywood's most beloved moments. Grappling with films like A Florida Enchantment (1914), Dog Day Afternoon, The Crying Game, and Boys Don't Cry, and with shows like The Jeffersons, The L-Word, and Pose, they trace a history that is at once dehumanizing, yet also evolving, complex, and sometimes humorous. What emerges is a fascinating story of dynamic interplay between trans representation on screen, society's beliefs, and the reality of trans lives. Reframing familiar scenes and iconic characters in a new light, director Sam Feder invites viewers to confront unexamined assumptions, and shows how what once captured the American imagination now elicit new feelings. DISCLOSURE provokes a startling revolution in how we see and understand trans people.
SAM FEDER is a Peabody Award nominated film director. Cited by Indiewire as one of the "exciting trans filmmakers shaking up Hollywood", Sam's films explore the intersection of visibility and politics along the lines of race, class, and gender. Sam's filmmaking practice models inclusion and equity in the industry.
Sam's films have been programmed by Sundance Film Festival, Tribeca Film Festival, CPH:DOX, MOMA PS-1, The British Film Institute, The Hammer Museum, and in hundreds of film festivals around the world. The Netflix Original Documentary, DISCLOSURE (Sundance, 2020) is an unprecedented, eye-opening look at transgender depictions in film and television, revealing how Hollywood simultaneously reflects and manufactures our deepest anxieties about gender. KATE BORNSTEIN IS A QUEER AND PLEASANT DANGER (2014), a portrait of trans icon Kate Bornstein, was named one of the best documentaries of 2014 by The Advocate, won the James Aronson Award for Social Justice Journalism, and multiple best feature film awards. Sam's work has been supported by Ford/JustFilms, Fork Films, California Humanities, The Jerome Foundation, Perspective Fund, Threshold, IFP Film Week, Good Pitch USA/Doc Society, MacDowell Colony, and Yaddo artist residency.
Panelists
Following the screening, there will be a conversation and Q and A with Sam Feder and the following guests:
Luna Peralta (she/her) is a class of '23 Skidmore student majoring in Environmental Science and minoring in Film and Media Studies. As an MDOCS DocLab assistant she assists Skidmore community members with documentary production including MDOCS Co-Creation Initiative partners: Black Dimensions in Art and C.R.E.A.T.E: The Legacy of Urban Renewal in Saratoga Springs . She also works in the Sustainability office as a Sustainable Workplace Manger. Currently, she is the President of the on campus Latinx club Raíces and the Vice-President of UJIMA, a club that creates a safe space for Black students within Skidmore. In her leadership position, she hopes to create a safe environment for queer students of color while breaking the harmful stereotypes of queerness within the Black and Latinx community. This Summer, Luna will be going to the University of Washington to do research pertaining to conservation in both an urbanized and wildlife setting. Her goal for the summer is to combine documentary and conservation for educational purposes which hopefully demonstrate to people how beautiful our Earth can be.

Atsushi Akera (she/her) is General Manager of Cafe Euphoria, and the Graduate Program Director and Associate Professor in the Department of Science and Technology Studies at Rensselaer. Cafe Euphoria is a new transgender/gender-non-conforming owned and operated cafe and restaurant located in downtown Troy that hopes to open its doors this Spring. They are looking to operate as a community space, with a curated thrift and co-working space component supporting the needs of Trans/GNC individuals. Cafe Euphoria will also operate as a minor gallery for local and regional trans/queer artists, and offer social events and educational programming of interest to the Capital District's trans, gender non-conforming, and broader LGBIA+ communities. The cafe operates as a worker-owned cooperative with a common wage for all employees; we also offer 3:1 aggressive sliding scale pricing to provide food and clothing access to members of our community.
As an academic, Dr. Akera has published on the subject of the history of computing and on engineering education reform, and is author of Calculating a Natural World: Scientists, Engineering, and Computers during the Rise of US Cold War Research. She is also a member of the Pride Center of the Capital Region's Board of Directors and the current President of Friends of Grafton Lakes State Park.
Moderator
Sarah Friedland (she/her) is a filmmaker and media artist whose works have been supported by grants and fellowships from the Jerome Foundation, the Paul Newman Foundation, the Ford Foundation, the New York State Council on the Arts, the Palestine American Research Center, the LABA House of Study, and the MacDowell Colony. She was named one of the "Top 10 Independent Filmmakers to Watch" by the Independent Magazine, is a recipient of the Paul Robeson award from the Newark Museum, and was nominated for a New York Emmy. She is currently working on a feature documentary titled Lyd In Exile, which she is co-directing with Rami Younis, and which was selected to pitch at the DocCorner Market at the Cannes Film Festival and Days of Cinema in Ramallah. Friedland received her BA from Sarah Lawrence College and the International School of Film and Television in Cuba and her MFA from the Integrated Media Art Program at Hunter College. Friedland is a member of the Meerkat Media Collective and the Director of the MDOCS Storyteller's Institute at Skidmore College.
This event is co-sponsored by the John B. Moore Documentary Collaborative (MDOCS), Office of Strategic Planning and Institutional Diversity, The Office of Student Diversity Programs (OSDP), the Gender Studies Department, the Social Work Department, the Media and Film Studies Program, and the Intergroup Relations Program (IGR).
---

Documentary at the End of the World is a documentary screening series curated by Bhawin Suchak and Darian Henry and presented by the MDOCS Co-Creation Initiative. The series features virtual screenings and Q&A's with dynamic emerging filmmakers from the NeXt Doc Collective whose praxis is deeply rooted in community-based storytelling including Cai Thomas, Jalena Keane-Lee, Brit Hensel, Farrah Rahman, César Martínez, and Davyana San Miguel.
"At a time when we are collectively being challenged to acknowledge and confront the crumbling white supremacist, capitalist, colonial infrastructures of documentary filmmaking, Documentary at the End of The World takes an interventionist approach that aims to provoke and incite a reimagination of the form and explore emergent and liminal spaces within the world of non-fiction storytelling."
- Bhawin Suchak and Darian Henry
---
Series schedule: Wednesdays @ 6pm - presented virtually on zoom register here (Meeting ID: 932 8769 0770)
---
Cai Thomas: Screening + Facilitated Q&A

Cai Thomas is a documentary filmmaker and dp telling verite stories at the intersection of location, self-determination and identity about Black youth and elders. She grew up in Miami's Liberty City neighborhood and is deeply interested in stories rooted in place. She will be screening her most recent film Change The Name which premiered at the 2021 Tribeca Film Festival and is currently airing on BET and her short Queenie which premiered at NewFest in 2020 winning the New York short Grand Jury award.
---
Jalena Keane-Lee: Screening + Facilitated Q&A
Jalena Keane-Lee is a filmmaker who explores intergenerational trauma and healing through an intersectional lens. Jalena's work subverts traditional narratives about the femme, Asian American Pacific Islander experience. She will be screening her film Standing Above the Clouds (2020) which won Best Short Documentary at LA Asian Pacific Film Festival and is playing on the Criterion Collection. She will also be screening her film Period Girl (2019).
---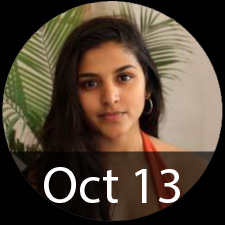 Farrah Rahman: Presentation + Facilitated Q&A
Farrah Rahaman is an interdisciplinary artist and scholar from San Fernando, Trinidad. As a CAMRA Fellows Undergraduate at Penn, Farrah received her first training in media making using ethnographic and ethical knowledge production methods. Her work at CAMRA, BlackStar Film Festival and the Leeway Foundation has enhanced her desire to use film based and teaching practice, to explore the ways in which communities of color resist, decolonize and build.
Currently, she is the Communications Director at CAMRA and a PhD student at the Annenberg School of Communication. Her current work focuses on the activist and artist networks in the Caribbean and Latin America who are actively eroding colonially produced calcifications through their collaboration. Such collectives embody the rich and defiant intellectual heritage of the Global South to enact anti-hegemonic feminist processes and imagine an environment beyond crisis.
---
Brit Hensel: Screening + Facilitated Q&A
Brit Hensel is an Oklahoma based writer and award-winning filmmaker whose work focuses on Indigenous storytelling and environmental justice. A member of Cherokee Nation, she was recently awarded the 4th World Indigenous Media Fellowship and is a 2022 Tulsa Artist Fellow. She will be screening her film Zibi Yajdan (2019), which tells the story of the Kalamazoo River and its relationship to the Match-E-Be-Nash-She-Wish Pottawatomi people (Gun Lake Tribe) in the wake of the Enbridge Pipeline 6B oil spill. She will also be screening her first film Native and American (2017), which explores identity through the lens of a young Potawatomi woman as she navigates her tribe's blood quantum standards.
---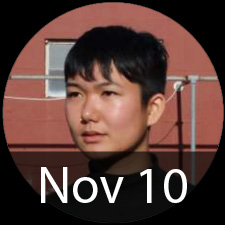 Davyana San Miguel: Screening + Facilitated Q&A
Davyana San Miguel (she/they) is a filmmaker and multi-media artist from Maui, Hawai'i. Davyana is an experimental filmmaker and interdisciplinary artist interested in experimenting with the form of storytelling, utilizing analog mediums such as hand-drawn animations and juxtaposed sound design. Through her work, she challenges societal stigmas by having open conversations about inclusivity and representation. Recent topics include: feminism and pornography (eros, 2017) and portraying realistic LGBTQ relationships (into the skin, 2016).
---
César Martínez: Screening + Facilitated Q&A
César Martínez is a NYC based filmmaker and editor invested in the intersections between documentary media and experimental filmmaking. His editorial work has screened at festivals such as HotDocs, SFFILM, and Big Sky Documentary Film Festival. He will be screening his films Chaporazzi (2020) and Dial Home (2021).
More info coming soon!
---
---
Community Co-Creation Pitch Session
Thu, November 11 @ 6-8pm
Location: Zoom
MDOCS is hosting its second Community Pitch Session where groups and organizations have the opportunity to present their mission, work, and documentary project proposals that capture a story they want to tell.
Register to attend here: registration form
Contact Angela Beallor for more information!
---
Stay posted on all upcoming MDOCS events on our Instagram page.
---