Doc on Campus: Bill Daniel's pop-up documentary photo exhibit
December 14, 2015
Written by Sara Marsh '18


Skaters, graffiti, and punk rock – these are the elements of the underground worlds that permeate the works of Texas-born artist Bill Daniel who drove to Skidmore College on a visit organzed by Mellon Fellow Nicky Tavares and hosted by MDOCS and Project Vis. Daniel was based at Falstaff's on November 4th to workshop and present his mobile photo exhibit, TRI-X NOISE.
Daniel is known for his experimental documentary films, photography, and installation art projects. During the workshop, he led student, faculty and community participants through a maze of his photography of the underground punk scene while discussing his own experiences of being immersed in this hidden world. Visitors to the pop-up exhibit were impressed by Daniel's presentation method.
"For me, being a photographer, a curatorial lover and a frequent traveler, it was a very inspiring experience to work with Bill [because] he combines all of those fields into a fun project," stated Evian Pan '17, who helped Daniel mount the show.
Daniel's pop-up exhibit definitely deviates from the standard gallery art show, and combined with the custom shadowy lighting set up, reflected the unconventional nature of his work. No two of his exhibits are alike, each one features a selection of photos slightly catered to the crowd and the display is transformed organically by each space.
Photo by Sara Marsh '18, Tri-X Noise pop-up exhibit in Falstaff's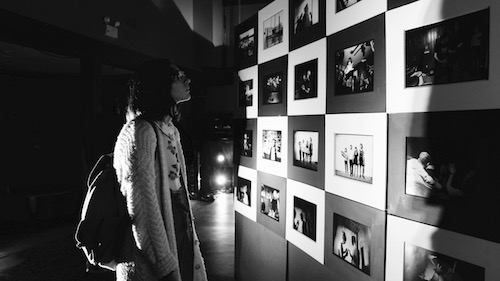 Photo by Sara Marsh '18, Tri-X Noise
Photo by Sara Marsh '18, Tri-X Noise
Photo by Sara Marsh '18, Tri-X Noise
To learn more about Bill Daniel and his work, visit his website billdaniel.net