Skidmore-Saratoga Networking Night
December 17, 2015
Written by Jesse Wakeman, Program Coordinator, MDOCS

This past Friday evening, four of the Skidmore programs promoting liberal arts fieldwork and visual literacy on campus—arts administration, media and film studies, MDOCS and the Andrew W. Mellon-funded Project Vis—teamed up to throw a networking night for students and Saratoga-area professionals. Hosted at Saratoga Arts Center, an inviting community downtown gallery space, professionals, students and faculty enjoyed a festive atmosphere and inspiring artwork backdrop.

Networking at Saratoga Arts
For students, the evening kicked off with a workshop on ice-breaking and networking tips to brush up conversational skills and develop professional demeanor. Topics from offering a firm handshake to how to join a conversation in progress were covered. Then it was off to Saratoga Arts to put these skills into action! In a crowd of around 50, with personalized business cards in hand, students were thrown into the deep end to mingle and make some potentially long-lasting contacts for their professional network.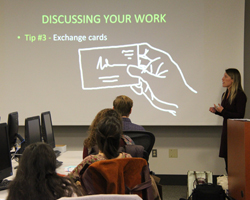 Business cards and a workshop helped students prepare to break the ice.

Arts and museum professionals, historical and cultural organizations, media production companies, entertainment industry entrepreneurs and even a screenwriter shared experiences and advice, talked about internship opportunities and got a sense of what kind of work Skidmore students are pursuing. Although Saratoga is a small community, it is rich with practitioners working toward building a strong creative economy. This past week, and in the future, MDOCS looks forward to developing and supporting events that build bridges and opportunities between the college campus and area initiatives.

Networking night conversations
To be notified about the next Skidmore-Saratoga networking night, sign up for the MDOCS Newsletter and stay up to date at our Facebook page.