Doc off Campus: Trip to Tribeca Film Festival
May 12, 2016
Guest student blogger: Sam Grant '18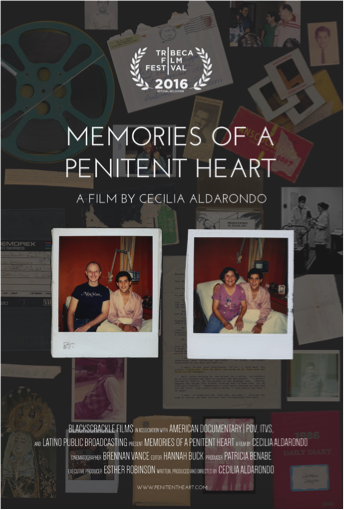 I'm convinced that there always has been and always will be a shroud of mystery surrounding what exactly it is that faculty do outside of the classroom. A juvenile fascination, maybe, but I'm certainly not alone in this curiosity. Since easing further into my college years, though, I've been pleasantly surprised with the openness of several of my teachers. Skidmore professors, particularly some of those within MDOCS, are excited to share the projects they're working on outside of the classroom with their students. They recognize that the student interest in hearing about real-world skill application is there, and in return, they grant their students access to their second lives—their lives as working documentarians.
I got the chance to be a part of Assistant Professor Cecilia Aldarondo's first course here at Skidmore last fall (EN 217 Film), which is where I first learned about the ins and outs of her filmmaking career. Aldarondo's reputation as a talented documentary filmmaker (and one who was getting noticed by festivals, no less!) began to spread from class to class. Part of what was so great about having a practicing documentarian leading your class is that when she would speak about the film industry, she would speak from firsthand knowledge. She infused the textbook material with her own experiences and elevated the course material to a level of deeper connection. Flash-forward a semester, and her completed documentary, Memories of a Penitent Heart, is premiering at the Tribeca Film Festival. And as if that wasn't news enough, Aldarondo (along with the English Department, MDOCS, Project VIS, and the Media and Film Studies Program) went right on ahead and arranged a field trip, giving us (her humble mega-fans) the chance to visit the festival for ourselves.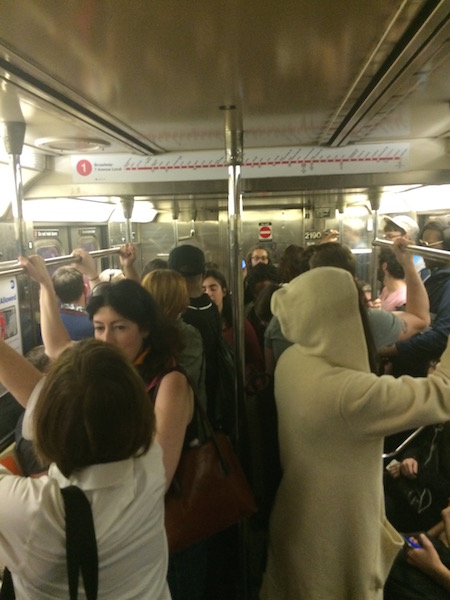 Managed to get 25 ppl on the Subway.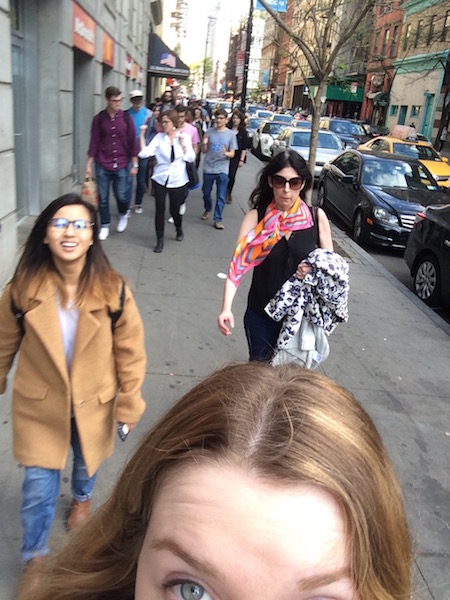 En route...
Traveling through New York City with a huge pack of people is hilarious. Traveling with a huge pack of people that includes your professors is even more hilarious (again, connecting back to the odd sensation of seeing your instructors in public). What was wonderful about this crew of people, though, is that I had never met half of them. The students and faculty members in attendance were from a range of disciplines, departments and class years, and yet they had all taken a special interest in Aldarondo's film. April 23, the day of the trip, was a Saturday that blew by way too quickly. That being said, we packed in as much pre-festival activity as one dysfunctional group of liberal arts students could manage. A few pics from the day are included below. Ruminate with me, won't you?
Sonia Kennebeck, creator of "National Bird" (2016)
The School of Visual Arts is an institution known for opening its doors to those interested in the creative realm. Its program in social documentary offered the Skidmore group a perfect spot to host a panel of social documentarian filmmakers and producers. Four women, Aldarondo, Sharese Bullock-Bailey, Barbara Ghammashi and Sonia Kennebeck (National Bird, 2016), led us in a discussion about the challenges and implications of the documentary field and incorporated some prime examples of student work along the way. Much of the presentation was spent talking about documentary-empowering initiatives, and other organizations (like Tribeca Teaches, Women Make Movies, The Paley Center) that should be on the radar of anyone hoping to point themselves in this direction.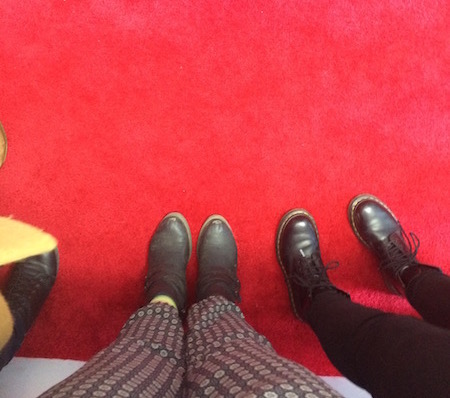 My mom was proud.
If anyone has any future plans to hit up a film festival, here are the three to-dos we were told:
1. have a business card
2. see a lot of movies
3. have an opinion
I'm pretty sure that the group became dead quiet when we walked onto the festival grounds. There was lots of looking around and lots of people watching. I did my fair share of staring at people/places/things, and the whole time, I kept thinking "who let these children into a real film festival?"
We yucked it up on the red carpet and then filed inside. We sat down, the film started, there was a brief Q&A afterwards, the whole thing happened like clockwork. The response to Aldarondo's film was tremendous.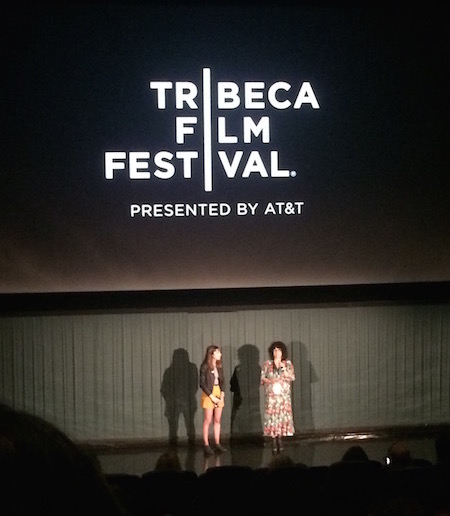 Prof. Aldarondo doing her thing.
To have seen bits and clips of it months prior had been fantastic, but it didn't compare to seeing it in a full-blown cinema setting. The audience was made up of a combination of students, friends, other documentarians and strangers, and it was still a competition to see who could cheer the loudest. Watching the film sparked several conversations (about film ethics, about cinematography, about narration), which carried onto the bus, and all the way home.
We got to go to the Tribeca Film Festival, and better yet, we got to go cheer on one of our professors at the Tribeca Film Festival. That's too cool.
I'm only in my sophomore year, but I've already gotten to go on a trip like this. It's days like these, days that go by way too quickly but are jam-packed with storytelling opportunities, that reinforce the capabilities of the MDOCS program.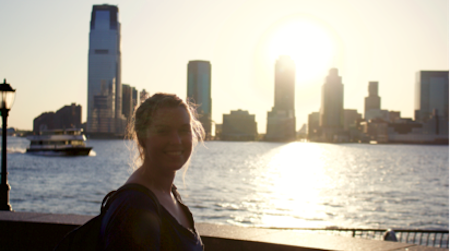 For more information about Aldarondo's film, visit www.penitentheart.com.
—Sam Grant '18