Storytellers' Institute: 2016 Schedule of Events
May 12, 2016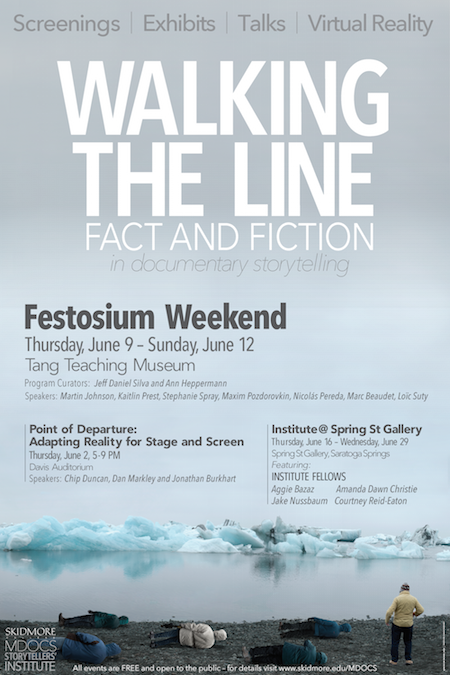 The John B. Moore Documentary Studies Collaborative's (MDOCS) annual Storytellers' Institute brings together documentary professionals, students and faculty for thought-provoking conversation, production and inspiration. This five-week residency program offers documentary creators space and time to focus on their work while also participating in public events that welcome the community into the conversation.
---
Point of Departure: Adapting Reality for Stage and Screen
Thursday, June 2, 5–6 p.m. panel, 7 p.m. screening and Q&A, Davis Auditorium
Join Chip Duncan (filmmaker/photographer), Dan Markley (producer), and Jonathan Burkhart (president, Nantucket Film Festival) for a moderated discussion about the challenges of representing "real" stories on the stage and screen. The panel is directly followed by a reception and exclusive screening of Duncan's new film, Tolkien & Lewis: Myth, Imagination and The Quest for Meaning about C.S. Lewis and J.R.R. Tolkien.
For more information click here.
---
Festosium Weekend
Thursday, June 9–Sunday, June 12, Tang Teaching Museum
This weekend-long gathering presents a series of screenings, exhibits, talks and events with filmmakers, audio documentarians, visual artists, multimedia designers and virtual-reality storytellers considering how recent documentary work challenges our understanding of what separates (or unites) fact and fiction, truth and imagination. For a full schedule of events click here.
Guests include Jeff Daniel Silva (Ivan & Ivana), Ann Heppermann (Serendipity podcast), Martin Johnson (Serendipity podcast), Kaitlin Prest (The Heart podcast), Stephanie Spray (Manakamana), Maxim Pozdorovkin (Pussy Riot: A Punk Prayer), Nicolás Pereda (Summer of Goliath), Marc Beaudet and Loïc Suty (Turbulent.ca, virtual reality)
---
Institute at Spring Street Gallery
Thursday, June 16–Wednesday, June 29, Spring Street Gallery (110 Spring St., Saratoga Springs)
Spring Street Gallery is hosting a collective exhibit of work by this year's institute fellows and former Skidmore student scholars with accompanying artist talks and screenings.
Thursday, June 16, 6–8:30 p.m., Artists' talks and opening reception: Featuring Institute Fellows Courtney Reid-Eaton and Jake Nussbaum
Tuesday, June 21, 7–9 p.m., Screening: Inheritance, followed by a discussion with director and Institute Fellow Aggie Ebrahimi Bazaz
Thursday, June 23, 7–9:30 p.m., Special preview screening: Spectres of Shortwave, followed by Q&A with director and Institute Fellow Amanda Dawn Christie
---
Institute screenings, performances and presentations are free and open to the public. For further information, visit www.skidmore.edu/mdocs/storytellers-institute.