SSMP Highlight: 60 Years Young
May 12, 2016
In fall 2014, five students and two professors set to work to sort through an archive and extract a story that told 60 years' worth of tales from the Saratoga Springs Adult and Senior Center. Professor and MDOCS Director Jordana Dym (history) and (now) Associate Dean of Faculty Crystal Moore (social work), presented me, Phoebe Radcliffe, along with Tracey Wingate '18, Eli Reuben '17, Rebecca Walker '17 and Natasha Thaler '18 with the opportunity to spend a semester creating a short documentary film to be shown at the senior center's 60th anniversary gala.
Our assignment was simple: plumb the archive and conduct some interviews, and cover six decades' worth of history–from founding to mission to community to activities to (re)locations to current initiatives in just a few short minutes.
One semester's work turned to two, as we learned the scope of and worked through what became a 12-record box collection of photos, newspaper clippings and official documents from the center dating from the past half-century. Highlights included the initial charter and first newsletter, minutes from early meetings, and hand written notes from "Mrs Vokes," a founding member and early leader.
We organized the archive materials categorically, using broad themes like activities, trips, leadership, holiday parties and everyday life at the center. Then, with a more informed understanding of the center's climate, we started crafting a story of a progressive center that was one of the first in a national movement to grow from a "golden age club" in 1955 to the active, engaging center it is today.
After months of sorting, scanning and selecting the tangible objects, we moved on to filming interviews with seniors at the center as well as community partners and the executive director, Lois Celeste. Finally, to editing the documentary video Sixty Years Young, which aired at the center's gala last November 2015. We met Stone Phillips, the event's honorary chair, and showed some of our documents to the community in a pop-up exhibit.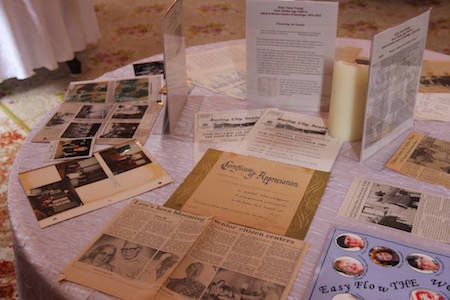 The final step in this process is to document and reorganize the archive in a way that both protects the artifiacts and provides finding aids for those wishing to utilize it in the future. Currently I'm working with Dym to complete this last leg of the journey so that we can return an accessible archive in the hopes that it continues to grow and document the next sixty years of the center's history.
—Phoebe Radcliffe '17, social work/Spanish