Student Blog: Interning with the Sanctuary for Independent Media
October 31, 2016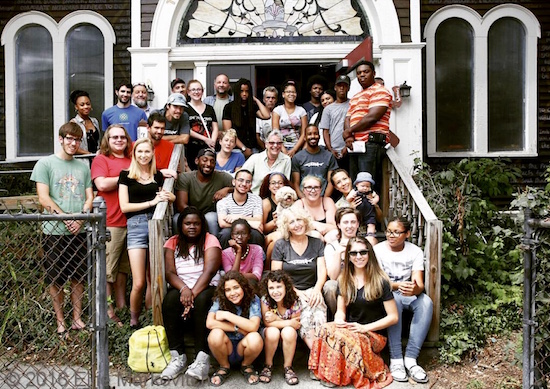 The Sanctuary for Independent Media - Photo by Steve Pierce
In the low-income neighborhood of North Troy, New York, the Sanctuary for Independent Media is a hub of creative connections and resiliency. As an audio production intern at Sanctuary, I was fortunate to become a part of the web of relationships that is the backbone of this mainly volunteer-run community space. My supervisors, Branda Miller (the arts and education coordinator) and Kathy High, are both professors in the arts department at RPI, and helped me grow as a media producer, not only teaching me recording, editing and stylistic techniques, but also the skills to collaborate with a broad spectrum of community voices.
At Sanctuary, there was a constant flow of creative and passionate people from a wide variety of backgrounds, each eager to share their stories and experiences. We worked together to grow this site of refuge in an often neglected urban landscape.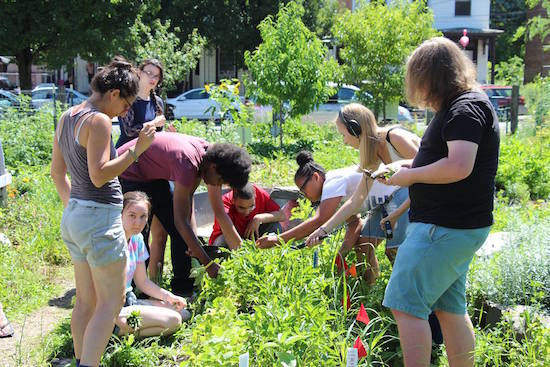 Recording in the Community Garden - Photo by Steve Pierce
One aspect of this collaboration is Sanctuary's community garden, known as the Collar City Growers garden. It's a vibrant space of growth and spontaneity that was often the locus of activity during the summer. My first audio piece was a brief portrait of the Wildwood special-needs group that was volunteering in this garden (blog post and audio piece here). I also produced a piece on the relationship between the garden and another local community arts space, known as Collar Works (listen to audio piece here). A nearby farm-to-preschool program has also developed a relationship with the sanctuary, donating vegetables to the cafeteria (listen to audio piece here).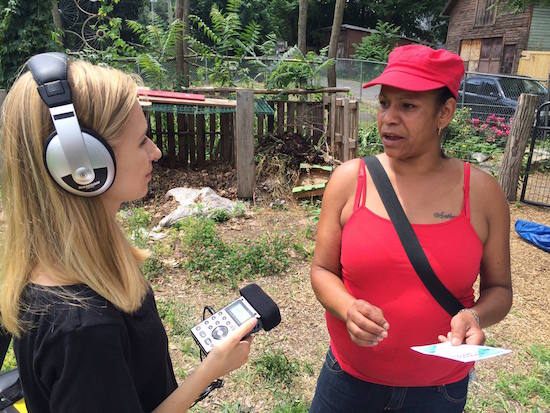 Interviewing a community member - Photo by Steve Pierce
As part of my internship, I also assisted with the Uptown Summer Youth Program, in collaboration with the Rensselaer County Summer Youth Employment. Uptown summer employs the youth for five weeks over the summer, providing a safe place for creative expression on issues ranging from abandoned buildings and urban blight to community gardens and environmental justice. As an intern with the program, I facilitated the youth in producing short films on these topics, which will later be screened at Proctors Theatre in Schenectady as part of the community engagement piece of the Breathing Lights art project. I also created audio portraits of the youth (click on each photograph to listen to the audio portraits). Throughout this program, folks came to learn from the youth and impart wisdom and advice. With audio recorder in hand, I captured these moments of sharing; among these was a group of Nigerian filmmakers touring New York State (listen to audio clip here), and Philip Morris, the director of Proctors (listen to Philip Morris clip here). All of the audio stories that I created this summer are part of the local media segment of Sanctuary's new low-power radio station, broadcasting throughout the capital region and streaming online at http://stream.woocfm.org:8000/wooc_64.
In addition to building my audio production skills, interning at Sanctuary I have learned so much about alternative storytelling methods—ways of creating spaces for voices that are often silenced or ignored. The Sanctuary for Independent Media is creating a small museum space called the North Troy People's History Museum. NATURE Lab (North Troy Art, Technology, and Urban Research in Ecology) is another ongoing project at Sanctuary that I hope to continue assisting. NATURE Lab is an innovative space located below the museum gallery and is dedicated to using "media and interdisciplinary arts as a seed to reclaim public space and build community. Situated on a neglected block in Troy, this living learning laboratory engages networks of artists and scientists, media makers and gardeners, community organizers and neighbors in collective actions stimulating environmental health and sustainability."
I hope to continue building on my connection with the Sanctuary for Independent Media, and to help these projects grow in the future.
—Julia Cavicchi '18