Documenting Music: Rock and Roll Photography of Jay Blakesberg
December 20, 2016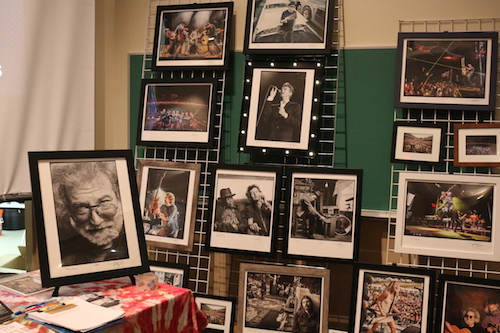 Jay Blakesberg's prints for sale in Davis Auditorium.
To delve into the world of Jay Blakesberg is to leave conventionality at the door. The San Francisco–based, 54-year-old, Grateful Dead-loving, "visual anthropologist," proud hippie father of Skidmore student, Ricki Blakesberg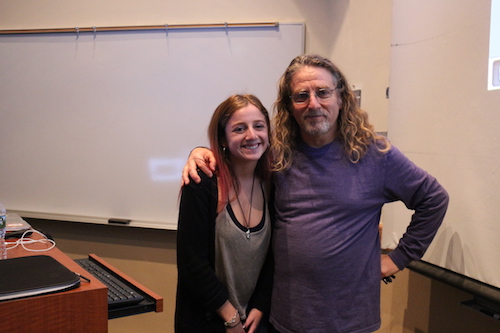 Jay with daughter Ricki Blakesberg, '18
'18, came to speak to an eager and packed audience Tuesday, November 1, about his life in the rock photo industry. There were hardly enough seats in Davis Auditorium to accommodate the audience composed of students, community members, family and devoted rock fans.
Blakesberg's candid-style photography and his passion for the Grateful Dead sparked within him what grew to be an impressive career photographing some of the world's most popular bands and musical artists—Iggy Pop, the Flaming Lips, Dave Matthews, Joni Mitchell, Tom Waits, the Talking Heads, the Grateful Dead and the list continues—sharing those moments with the likes of magazines such as Rolling Stone, Guitar Player and Relix.
A young photo of Jay Blakesberg in his teens.
As Jay told the crowd, it all started with a $10 golden ticket to one of the Grateful Dead's smallest shows in 1978. The New Jersey native began his photo career as a teenager in the mid 1970's, taking photojournalist-type images with his father's old Pentax camera. Blakesberg's muse at that time was the everyday lifestyle of a music loving, hippie teenager. The resourceful Blakesberg began developing his work in his parents' basement and turned his suburban bedroom into a photo gallery, hanging each photo on his wall along with catchy bumper-sticker slogans and other rock memorabilia. From this moment on, Blakesberg would take and save over two million images, one million before turning from film to digital production, and one million after (so far).
Soon, the free-spirited teenager broke out of the boundaries of New Jersey and took his adventures down the East Coast to a "No Nukes" rally in Washington D.C., where he found a press credential on the ground and walked backstage to take photographs, launching a lifestyle of "documenting pop culture history." Cultivating this carefree lifestyle, Blakesberg became "a full-blown hippie," traveling across the country, once from New Jersey to Oakland, California, by Greyhound bus, to photograph the Grateful Dead, selling his photographs in concert parking lots for $1 each. Around this time Blakesberg officially launched his career as a photographer, formally getting paid to publish his work in a small music magazine. Blakesberg, at 18, was the epitome of a Deadhead and like every true deadhead, he became what he considers "a very resourceful scammer," sneaking into shows he got kicked out of and inadvertently getting involved in an LSD drug ring, the latter causing him to spend about eight months in a New Jersey State prison. Humbled by his time in jail, Blakesberg looks at this experience as he does all of his other experiences: as an adventure that made him who he is today, convincing the audience that "we are the sum of our experiences."
Blakesberg is fascinating in this way. Not only is he a member of a rare breed that finds jail "fascinating" like "a comedy, a dark comedy," explaining how he typically passed his time teaching his fellow inmates how to grow alfalfa sprouts in jailroom lockers, but he has this unique ability to express his optimism and passion for life through his photographs and the way in which he addresses an audience. After his short stint in the big house, Blakesberg was more eager to launch his career. He eventually attended the "groovy, hippie, liberal arts" Evergreen State College in Washington State where he formally began to refer to himself as a "visual anthropologist, building a body of work documenting pop culture history." In the late 1980s Blakesberg officially became a valued photographer for Rolling Stone magazine, shooting bands from U2 to the Grateful Dead, and over time would shoot over 300 assignments for the esteemed rock publication.
Blakesberg's work also has appeared in print magazines such as Time, Vanity Fair, Guitar Player and BAM Magazine and on numerous album covers.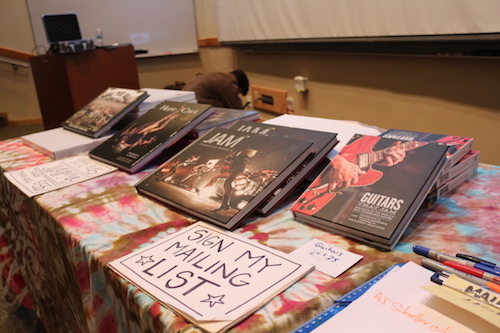 Jay's coffee table books.
Blakesberg doesn't limit himself to rock photography either, often shooting portraits for business magazines, ad campaigns and any other assignment that would come his way. No matter the assignment, Blakesberg claims he and his "tribe of hippies" always "had a lot of fun." He feels as though he "was truly saved by photography" and continues to live by the rule that "having fun is one of the key ingredients of life."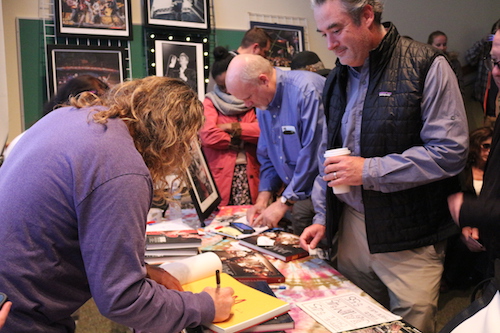 Fans lining up after the presentation for book signing.
After publishing 11 coffee table books of his music photography, most recently the 2015 Hippie Chick, and starting a successful publishing company, Blakesberg continues to do what he does best: follow his passions, search for inspiration and find new adventures, since "it is good for the soul." Without these values, Blakesberg feels, being successful in a creative job would be extremely difficult.
Blakesberg's parting words to the Skidmore crowd were a combination of fatherly, rock-lover and successful photographer/businessman advice: He encouraged his audience to step outside of the box, "have a vision," create unique content, "surrender" to performance, "photograph what you love," and perhaps, most importantly, "never be afraid to sparkle."
—Jillian Moossman, '18; photos
by Jesse Wakeman, MDOCS program coordinator