Documentary Work across Campus
December 20, 2016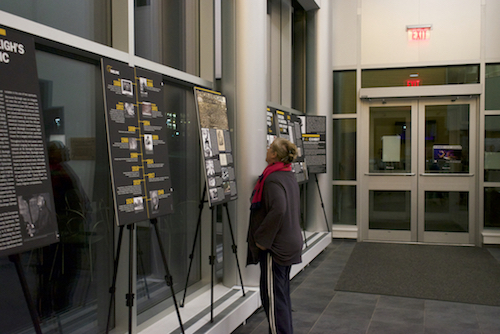 Harry T. Burleigh exhibit in the Arthur Zankel Music Center lobby.

Throughout the semester, Skidmore presented a host of interesting, unique and well-researched documentary projects; some were developed through designated classes, and some were extracurricular. Two particular documentary projects worth highlighting include work from Visiting Assistant Professor Elizabeth Macy's "Blues and African American Musical Heritage" class and Assistant Professor Bernardo Rios's "Visual Anthropology" course. Each class used a different documentary form to communicate the researched story to share with the class and the greater Skidmore and Saratoga Springs communities.
In the Zankel Music Center, Macy's course, in her own words, "traces the history of blues and black music" paying particular attention to composer and singer Harry T. Burleigh. "I was asked by Jeremy Day-O'Connell [chair of the Music Department] to collaborate on some kind of project to coincide with the Harry T. Burleigh commemorative concert, and I decided to have my class develop and design a lobby installation to commemorate Harry T. Burleigh's life, music and time in Saratoga Springs," Macy says about the origins and trajectory of the project.
To complete the exhibit, students formed groups and worked on specific sections: Burleigh's life and times, Burleigh in Saratoga, African-Americans in Saratoga Springs and African-American musical heritage. Student Olivia Cox worked on the Burleigh in Saratoga panel, focusing on the spaces Burleigh worked in and how he impacted them. She spoke about the uniqueness of the project saying, "It was really fun to look back at history in a very tactile way," marveling at how "it was so cool to see primary sources and connect them to an important musical figure."
Programs for the evening's events
The class collaborated with leading experts such as historian and Bard College professor Myra Young Armstead, who has written about African-Americans in Saratoga Springs, local historian Field Horne and Skidmore history Professor and MDOCS Director Jordana Dym. Once information was found, gathered and organized, the class sent their content to the MDOCS team and student assistant Michael Zhou '17, who designed and managed the printing of the exhibit posters.
The class's efforts culminated in a wonderful exhibit in the Arthur Zankel Music Center, where the posters and photographs filled the lobby and the audience enjoyed a mesmerizing performance by baritone Stephen
Zankel main stage set up for baritone Stephen Salters
Salters, accompanied by pianist Linda Osborn, all in commemoration of the 150th year anniversary of Harry T. Burleigh's birth. The exhibit lives on as part of the Skidmore-Saratoga Memory Project.
In Palamountain Hall, Bernardo Rios' "Visual Anthropology" course aimed to explore and better understand various Skidmore communities through documentary methods such as photo essays, storytelling narratives, videos, text and other visual projects, ultimately using photography and videos to think visually and create images to present ethnographic data. The course also stresses the self-exploration and procedural aspect of reporting and documenting that are uniquely anthropological.
To complete the goal, students chose one Skidmore extracurricular club in which they weren't already a member and documented it, working with the club board members of the selected organization using whatever documentary method would best represent that club. Working closely with the members, collaborators collectively developed the form of the final project. To familiarize students with DSLR cameras and visual storytelling, the MDOCS team visited the class to teach workshops on both aspects.
For Rios, visual anthropology works beyond the final product. Throughout his course he sought to teach his students to "appreciate the process rather than the product" and to "produce something that challenges our knowledge of humanity that connects with people," he said.
| | |
| --- | --- |
| | |
| Bernardo Rios with "Visual Anthropology" students | DSLR workshop seen through a camera lens |

Hourlong skill-up and storytelling classroom workshops are available upon request for any Skidmore faculty member interested in incorporating a visual or audio assignment into their syllabi. Once students have been through a workshop on using specific production gear, they may be authorized to work with the MDOCS equipment housed in Media Services. MDOCS hopes that faculty on campus will continue to use this resource and encourages those interested in bringing multimedia documentary assignments into the classroom to put in requests before the start of each semester. Write to mdocs@skidmore.edu for more information.
Story and images by Jillian Moossmann '18